As India is witnessing youth outrage over the Central government's new "Agnipath" scheme to recruit 46,000 aspirants into the ranks of the military and retire 75% of them four years later, several claims have been surfacing.
Indian Army#अग्निवीर #ModiMustResign pic.twitter.com/Ci72bG30CH

— JeetFixWriter (@JeetFixWriter) June 16, 2022
One such claim shows a paper clipping in Hindi that said an army aspirant killed himself in Haryana. "Father, I could not become a soldier in this life, but I'll surely become one in my next," read the caption in Hindi and is being shared here and here, with a potential to go viral.
FACT CHECK
In the wake of violent clashes and burning of trains being reported in more than 10 states since June 14 when the government announced the Agnipath Recruitment Scheme, the claim got the attention of many. As per the authentic news reports, so far, only one youth was killed in Railway Police firing on arsonists at Secunderabad Railway Station on June 18.
When Digiteye India team searched for the press clippings used in the claim of the youth who died of suicide, no results appeared. Instead, a Google Reverse Image search revealed that the press clipping was an old one belonging to a youth who killed himself in Haryana's Bhiwani in April 2022.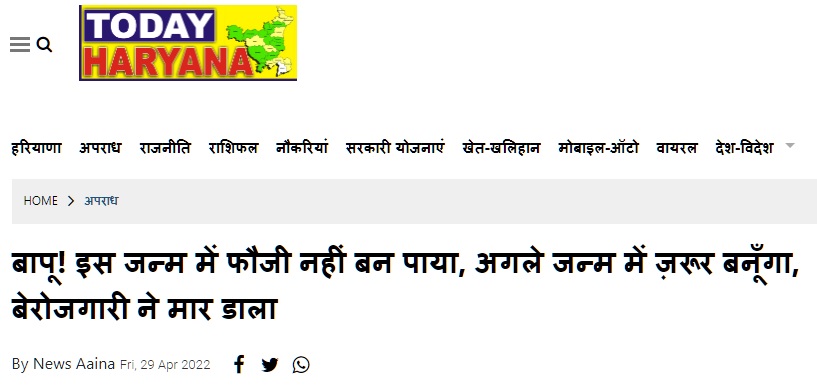 The 23-year-old army aspirant died of suicide in April 2022 after his failure to join the Indian Army, much before the Agnipath Scheme was announced in June 2022. It was widely reported in news outlets here and here. Hence, the claim is false.
Claim: Haryana youth died of suicide due to Agnipath Army Recruitment Scheme.
Conclusion: Old press report of a Haryana youth's suicide before the launch of "Agnipath" scheme was used with a wrong claim.
Rating: Misrepresentation —