As Bollywood actor Sonu Sood gained popularity for his Covid safety measures among the migrant workers and taking up several other initiatives, he also became the target of false allegations.
A photo of the actor standing beside a train is going viral on Facebook and WhatsApp stating that the actor and philanthropist is facing charges filed by the Modi government on collecting Covid vaccines illegally for his social work. It portrayed as if those doing good service to the nation are paying the price.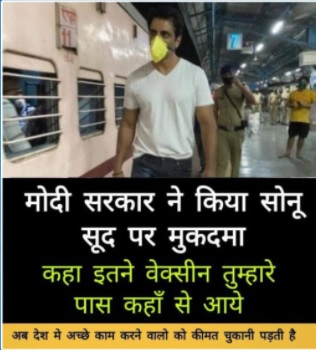 The Facebook page (now removed) 'आओ मिलकर देश बचाये" (Aao milkar desh bachao) said in its post:"Modi government sued Sonu Sood saying from where did he get so many vaccines." It also added,"Now those who do good work for the country have to pay the price."
Fact Check:
The Digiteye India team searched online for any such news but found no news carried out by any news outlet so far. Next, we searched for the image with Google reverse image search and found that the image was used in the Indian Express on 2 June 2020, when the actor took up the initiative to help 1,000 migrant workers in Mumbai to return home during the nationwide lockdown. Here's the visual of him sending off migrants from a Mumbai station in June 2020:
Investigation
The only relevant information about Sonu Sood was when the Bombay High Court on June 17 asked the Government of Maharashtra as to how MLA Zeeshan Siddiqui and actor Sonu Sood got the crucial anti-viral drug Remdesivir for distribution. As per the court order, the investigation in this matter is still going on and it has been widely reported here and here.
Otherwise, Sonu Sood is running a Vaccine Awareness campaign 'Sanjeevani' in collaboratin with the Federal Bank and his NGO Sonu Sood Foundation, along with the Network 18 Media Group. the campaign is part of the initiative to dispel vaccine hesitation among people and has nothing to do with the vaccine camp or distribution of Remedesivir.
Claim: Modi government filed FIR against actor Sonu Sood
Conclusion: The claim that an FIR was lodged against Sonu Sood is false. The Central (Modi) government has not filed any such case against Sonu Sood as of June 27, 2021 as claimed.
Our Rating: Misinterpretation —