A video with a message is making rounds on social media. It depicts a packaging worker in a restaurant, where a sticker of Foodpanda is visible, blowing air through mouth into plastic food bags with food. As coronavirus continues to spread scaring many people away, this video has been going viral with devastating results in India. Here's the video:
Here's the WhatsApp message: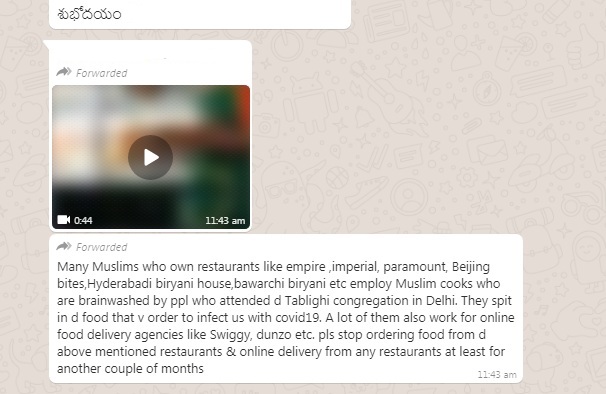 In view of Nizamuddin religious congregation of March 13 to 15, where many were suspected to have contracted coronavirus and making headlines all over the country, the video and the message attributes the gathering to spread coronavirus. It was shared widely on Twitter too:
#foodpanda what is going on?
Why is this guy blowing air in food packets during this time of #CoronavirusOutbreakindia pic.twitter.com/VKs5D0iOIO

— Agir Gupta (@agirgupta) April 2, 2020
Another message on Twitter has called out to stop eating packed food from restaurants. Here are our fact check results:
FACT CHECK
The Digiteye India team took it up for fact checking by taking a screen grab from the video and searching it on Google Reverse Image search. Here is the page of  results: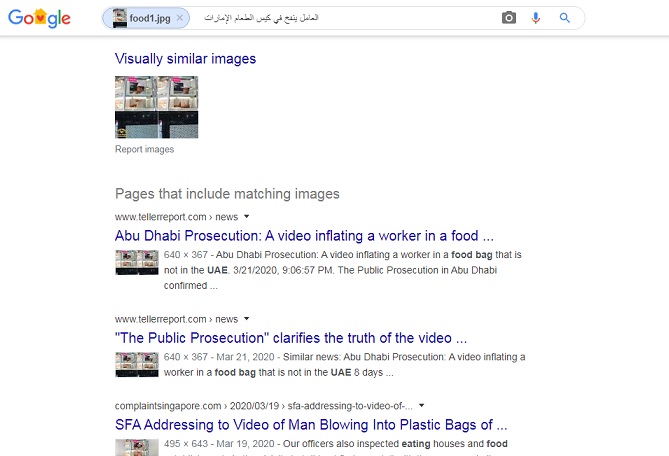 The video was originally spotted in Singapore last year, where a worker was seen blowing air into papads package in a restaurant. According to various social media posts, the stall's name was "Best Muslim Food Stall" and is located at Block 724 Clementi West Street 2. However, SFA had posted its official reply denying the facts on their official Facebook page: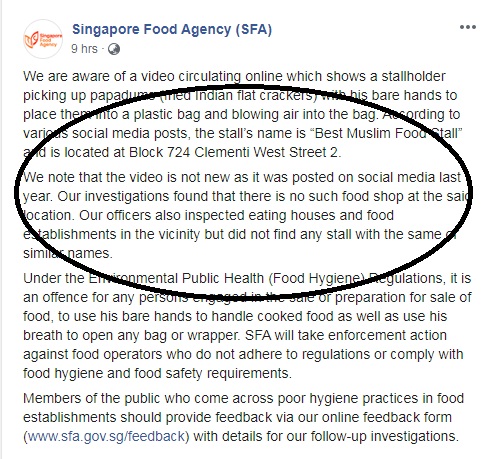 The Singapore Food Agency had posted on their Facebook page addressing to the recent video showing a man using his bare hands to pack "Papadums" into plastic bags, and blowing air into the plastic bags, for sale.
Similar video appeared in Abu Dhabi where the authorities clarified that it was not in their country and report was covered by local news outlet Tellerreport.com here: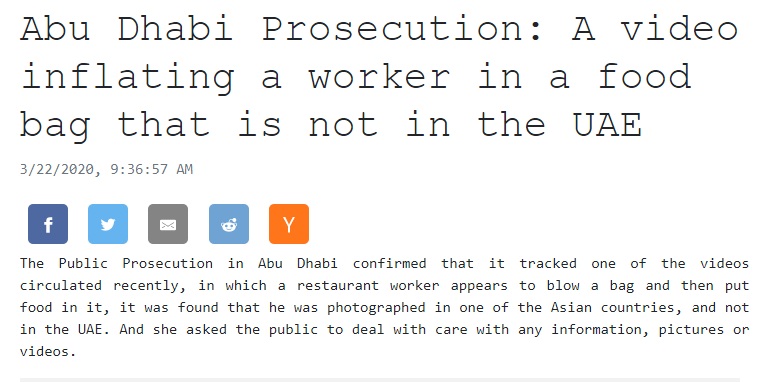 Conclusion: The claim in the video that the act was after the Nizamuddin religious congregation amidst coronavirus is totally false as the SFA officially says that it was a year-old video. This video has made its appearance in many countries including UAE and now in India. Our rating of the claim is ??? Misrepresentation.