With the beginning of the third phase of covid vaccinations in India, there is a surge of information regarding the vaccines available online. With the third phase of vaccination, citizens above 18 years of age are eligible for the covid vaccine.
Digiteye India received a fact check query regarding the vaccination. The viral message reads, "CARDIOLOGIST DR.SURENDRAN'S SUGGESTION: Before taking COVID Vaccination (Covishield or Covaxin) take a CRP Test (C-reactive Protein Test) in any lab. It may cost about Rs.300/- This will save Lives! It reveals any infection in the Blood. And, if you Vaccinate with infections in your Blood, there may be adverse effects. So, please take CRP Test if you are above 45 years without fail. Pls pass this information to your Near & Dear ones."
The message claims that taking a CRP test before vaccination will reveal "any infection in the blood". It also claims that taking the vaccine jab with infections in the blood can result in "adverse effects".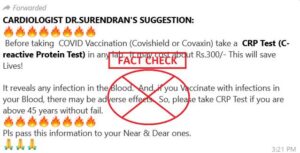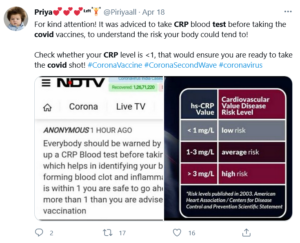 Fact Check:
A CRP Test (C-reactive protein test) is a blood test marker for inflammation in the body. CRP is produced in the liver and its level is measured by testing the blood. COVID-19 seems to increase CRP levels significantly due to inflammatory reaction and related tissue destruction.
According to a 2020 research paper titled 'Elevated level of C‐reactive protein may be an early marker to predict risk for severity of COVID‐19', the research findings reveal that "the normal concentration of CRP is less than 10 mg/L; however, it rises rapidly within 6 to 8 hours and gives the highest peak in 48 hours from the disease onset. Its half‐life is about 19 hours and its concentration decreases when the inflammatory stages end and the patient is healing. When the inflammation or tissue damage is resolved, CRP concentration falls, making it a useful marker for monitoring disease severity."
Doctors suggest CRP tests when a patient shows symptoms but good oxygen levels despite the RT-PCR test coming as negative. people presenting with severe pneumonia had high CRP levels. As per studies, CRP levels can be used in the early diagnosis of pneumonia.
A study report published in June 2021 by Brigham and Women's Hospital researchers analyzed patients' levels of inflammation by looking at C-reactive protein (CRP) trends in 100 COVID-19 patients admitted to the hospital. They found that a rapid rise in CRP levels during the first 48-to-72 hours of hospitalization was predictive of subsequent respiratory deterioration and intubation, while steadier CRP levels were observed in patients whose condition remained stable. Findings were published in Cell Reports Medicine.
Experts suggest the CRP test to only individuals who have some allergic reaction to medications. For those who are allergic to the medication, or drugs, it is important to get an all-clear from a medical practitioner. A complete blood count (CBC), C-reactive protein (CRP), or Immunoglobulin-E (IgE) levels can be checked under medical advice.
Although the CRP test is a marker for inflammation, high CRP levels may indicate inflammation in the arteries of the heart, which can mean a higher risk of a heart attack. Citizens are advised to speak with their doctors who are familiar with their medical history concerning taking a CRP test before their vaccination.
Claim:
A CRP test is necessary before vaccination.
Rating:
A CRP test is required before vaccination only if the individual has a medical history of an allergic reaction to any medication. Our rating – Misinterpretation —

.
[This article was first published on May 3, 2021 and updated with more references on CRP on June 12, 2021]