With the Covid-19 cases surging again in the country, a video has been making rounds with the Telangana Chief Minister K. Chadrasekhara Rao announcing closure of educational institutions in the state. The video in Telugu is being shared in WhatsApp among the groups, especially in Telangana.
At the same time, another video of Uttar Pradesh Chief Minister Yogi Adityanand in Hindi announcing   the imposition of lockdown in several districts in the state has been received for fact check on WhatsApp.
Since there is again a rapid increase in the number of Covid-19 cases in country and in many states, the videos tend to make people believe that it could be true and that the schools and colleges in Telangana will be closed from an unusual increase in the last week until March 31, while the second video hints at possible lockdown again in UP.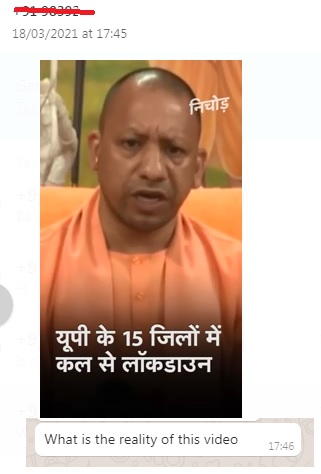 Fact Check
When Digiteye India received the videos for fact check, the team checked a frame of the video in Invideo and on Youtube with relevant keywords. Similar video was uploaded by several news outlets on March 14, 2020 when the coronavirus cases starting spreading rapidly in Telangana. And the Telangana government had shut down last year in March all educational institutions, malls, cinema halls besides imposing strict curfew in the state and the video reflects the situation then.
A cross verification on twitter showed that the Director of Information, Telangana had informed in a tweet stating that the particular video was misleading and no such rules have been imposed. Here's his tweet:
#FakeNewsAlert
An old clip of CM Sri KCR announcing lockdown is being spread on Social Media by some miscreants. Please note that this clip is from March 2020

— Konatham Dileep (@KonathamDileep) March 21, 2021
Similarly, the second video showing UP CM announcing lockdown was also an old one pertaining to March 2020 lockdown but being shared now in March 2021. See the original video here:
Claim: New lockdown announced in AP and UP by respective chief ministers.
Conclusion: False. Old videos of 2020 resurfaced and being shared claiming that new lockdown measures imposed in respective states.