Following controversial remarks made by new Uttarakhand Chief Minister Tirath Singh Rawat, a picture has surfaced on social media, especially on Twitter and WhatsApp showing him with his teenaged daughter. The image carried Rawat's criticism of ripped jeans. Below that showing the picture of his daughter Lokanksha Rawat, but wearing short jeans. The picture appeared in many websites earlier.
The news was that at an event on March 16, 2021, newly appointed Uttarakhand Chief Minister Tirath Singh Rawat criticised women for wearing ripped jeans and wondered what values they will impart to their children, triggering a protest and drawing flak from opposition parties and women in India.
Tirath Singh Rawat said youngsters either buy ripped jeans or they just cut their jeans using scissors, referring to a woman who sat next to him on a flight. "She runs an NGO, goes out in the society and has two children, but she wears jeans ripped at the knees. What values will she impart?" he questioned.
When Digiteye India received the following image for fact checking, the image had already gone viral on Twitter.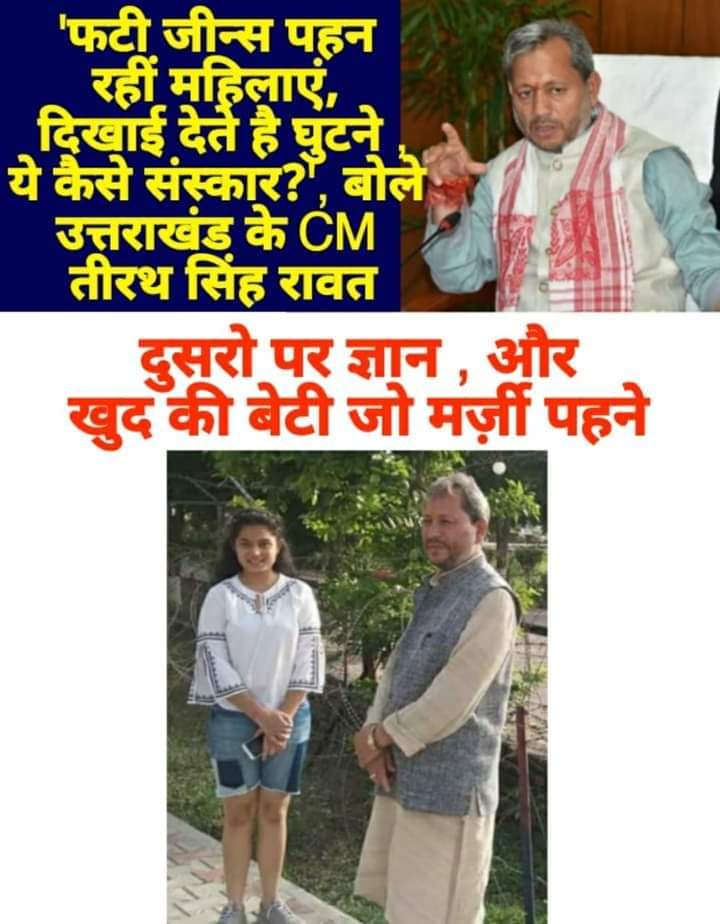 वो देश की बेटियों की नही
उनकी खुद की बेटी की बात कर रहा है

See this pic.twitter.com/iwqCirmDv3

— Sunil किसान पुत्र (@SunilMe24609328) March 18, 2021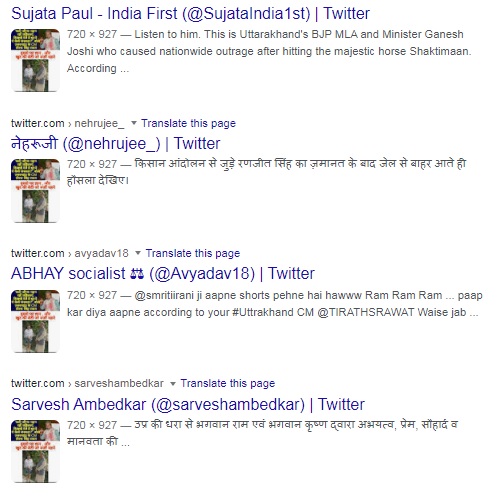 Fact Check
A google image search revealed that the girl in picutre was indeed Lokanksha Rawat with her father Tirath Singh Rawat taken a few years ago. The day when her father's name was announced, she gave an interview to TV channels as seen in the picture:
Different Image
However, an actor and social activist by name Chitrashi Rawat, whose father's name is Tirath Singh Rawat claimed in an India Today interview that her image was being shared on social media with a ripped jeans and denied any relationship with the new Uttarakhand Chief Minister.
Chitrashi Rawat told India Today TV: "One of my photos is going viral [with claim] that I am wearing [ripped] jeans and I am the daughter of Uttarakhand Chief Minister Tirath Singh Rawat. It is true that my father's name is Tirath Singh Rawat. I am not related to Uttarakhand CM. It's a mere coincidence that my father's name is also Tirath Singh Rawat." It was true that the picture of Chitrashi Rawat was carried out by some with misleading claim that she was CM's daughter.
The picture being shared on social media is the following one and it is not that of Chitrashi Rawat but of Lokanksha Rawat.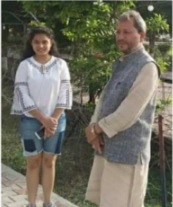 Claim: Uttarkhand CM Tirath Singh Rawat is criticising women who wear ripped jeans but has given freedom to daughter to wear them.
Conclusion: The image is true and the claim in the second image that it belongs to actor Chitrashi Rawat was false. Moreover, Lokanksha Rawat was wearing not ripped jeans but shorts.
Our Rating: Mostly False —