Ever since the demonetisation in September 2016 and introduction of new Rs.2,000 note, rumours have been around that the new note will also be faced like the older version of Rs.1,000. Similarly, a message on WhatsApp and Facebook started circulating that the Reserve Bank of India (RBI) is withdrawing the Rs.2000 note from December 31, 2019. The message also claimed that a new Rs.1000 note will be introduced by the Central bank from January 1, 2020.
See the message on Facebook shared by one user Umakant Mehta: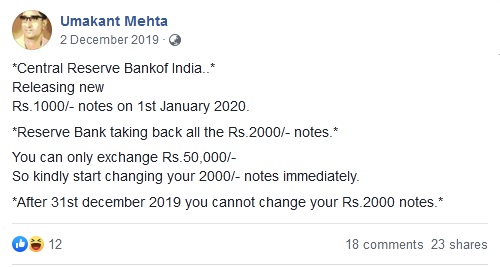 Despite several denials by RBI in the past, this message keeps on appearing on social media platforms. This time, it has added several clauses to make it look authentic. In some messages, it was attached along with a morphed screenshot of a broadcast by Aaj Tak news channel. Many people have sought confirmation of the rumour as seen below: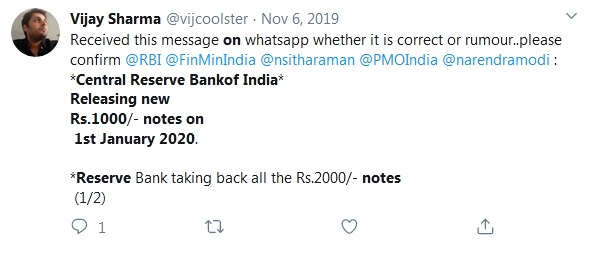 Fact Check
Digiteye India has earlier cited RBI denial and so did many fact checking websites but this rumour has repeatedly surfaced on social media. Finally, Union Minister of State for Finance & Corporate Affairs Anurag Singh Thakur stated in a written reply to a question from Vishwambar Orasad Nishad in Rajya Sabha on December 3 that there is no such proposal to scrap Rs,2000 notes. "You should not worry about it," he said clarifying the note ban rumour.