As Telangana is witnessing heavy floods, a video has been going viral claiming that it contains visuals of an Indian Air Force (IAF) helicopter rescuing flood victims.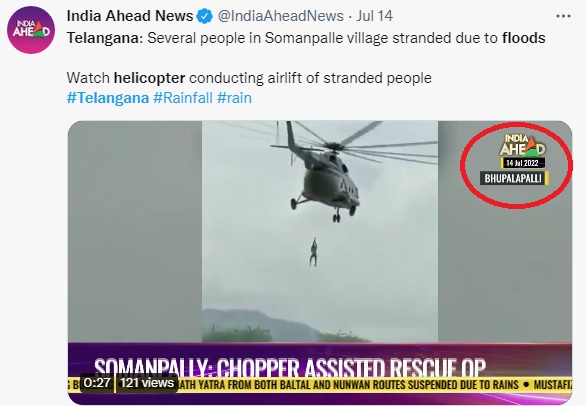 The caption reads: "Telangana: Several people in Somanpalli village stranded due to floods. Watch helicopter conducting airlift of stranded people in floods." It was aired on India Ahead TV channel and shared on Twitter on July 14, 2022. It was also shared by IANS on twitter.
Two persons caught in #flood waters in #Telangana's Mancherial district were rescued by a helicopter.

A team of the National Disaster Response Force (@NDRFHQ) rescued the two farmers stuck in floods in Godavari river in Oddu Somanpally village near Chennur in Mancherial. pic.twitter.com/gUqjEc32vd

— IANS (@ians_india) July 14, 2022
The video shows a person stranded on top of a bulldozer on a flooded river, being winched up into a helicopter.
FACT CHECK
Since the Air Force has pressed its helicopters for rescue operations on July 17, the video aired on July 14, 2022 seemed illogical. When the Digiteye India team checked for the video on Youtube, the search results showed similar video from November 2021.
The caption of the two-minute 19-second video reads: "Anantapur: Air Force's rescue operation amid heavy floods Andhra Pradesh." See the video that was circulated in Twitter and uploaded on Youtube on YouTube on November 20, 2021:
Today, @IAF_MCC Mi-17 heptr evacuated ten people stuck in the rising waters of Chitravati river in Ananthapur district, Andhra Pradesh, in difficult weather conditions. pic.twitter.com/CEsG9EOekC

— Indian Air Force (@IAF_MCC) November 19, 2021
As per the news reports, the IAF helicopter rescued ten people from the Chitravati river in the Ananthapur district of Andhra Pradesh state.
Another clarification came when the PRO, Hyderabad, Ministry of Defence @dprohyd tweeted on July 21, 2022 about pressing IAF helicopters into service. "Chetak helicopter of #IndianAirForce deployed for relief operations in flood-affected Bhadradri Kothagudem Dist of Telangana from 17 Jul 22 and continued with relief missions. A total of 470 kg of relief supplies were airdropped at Cherla village and 670 kg at Dummugudem village," said the tweet. Hence, the rescue operation began on July 17 and not on July 14 as claimed.
Claim: IAF helicopters rescued stranded farmers during Telangana floods
Conclusion: False as wrong video was used and IAF started rescue operation on July 17, not on July 14 when the video clip was shared on social media.
Rating: Misrepresentation —