An image is making rounds since March 12 claiming that the covid-19 vaccine administered to a doctor in Tamil Nadu killed her. It was widely shared on WhatsApp and Digiteye received one for fact check. The social media is also filled with the image circulating among many groups.
The message said, Dr Hariharini in Madurai, Tamil Nadu passed away when given an injection for myalgia following Covid vaccination. Though it did not state clearly, the message implied one of the complications due to the Covid vaccination drive underway in India, with medical doctors being given on priority.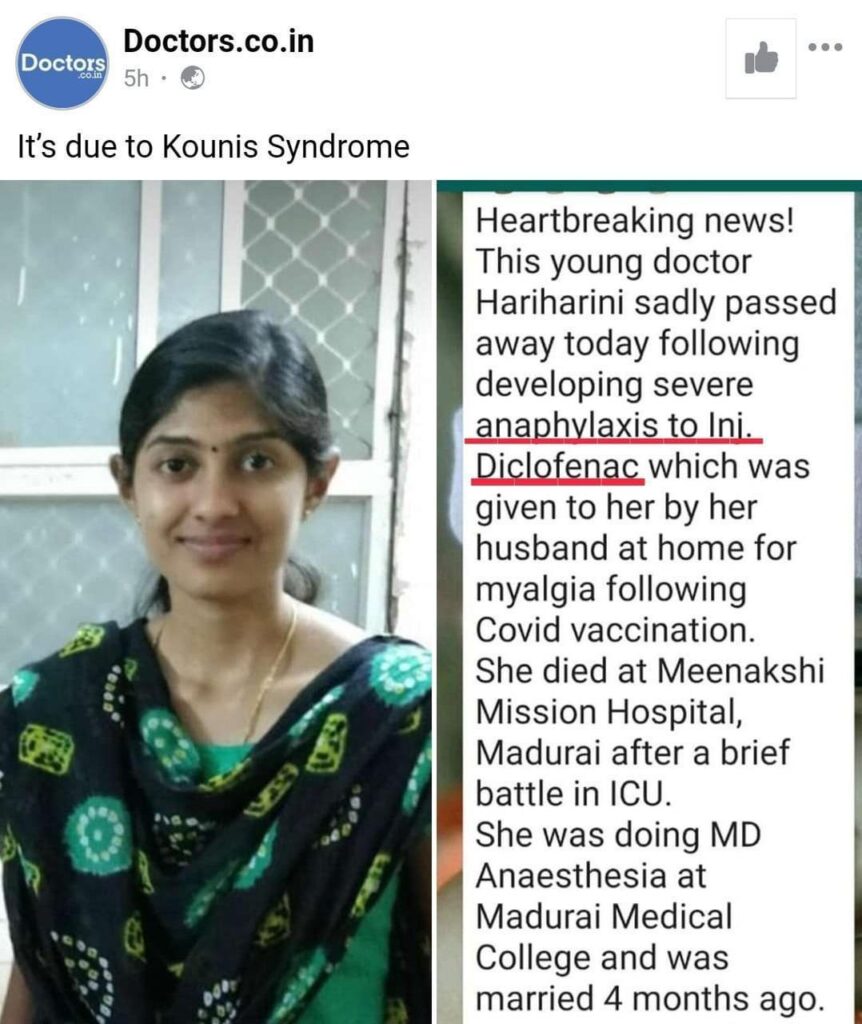 The same message was being shared widely on social media such as Twitter and Facebook. Digiteye India received the image for fact check and here is what we found.
Fact check
A search on Google News revealed that Dr Hariharini, a postgraduate student at the department of Anaesthesiology in Madurai Medical College was married to Dr Ashok Vignesh, a postgraduate student in the department of general surgery at the Madurai Medical College. The couple got married in November 2020, said a statement in Indian Express.
Dr Hariharini, took the first dose of Covid-19 vaccine Covishield on February 5, reportedly developed fever and body pain on March 5, a month after taking the vaccine. "In a bid to treat her at their residence, her husband reportedly administered the painkiller injection Diclofenac. A few hours later, she started vomiting and fell unconscious," police sources told the news outlet.
Avaniapuram police registered a case and an RDO probe was also initiated. District Immunisation Officer Dr KV Arjun Kumar stated that Dr Harini was shifted to a private hospital on March 5 around 7.30 am and was put on mechanical ventilation. She died six days later, on March 11 afternoon, he confirmed due to allergy to Diclofenac.
Autopsy report
"The autopsy was performed on March 12 and the provisional diagnosis state that she suffered hypoxic ischemic encephalopathy (brain dysfunction due to inadequate oxygen supply) due to anaphylactic shock (severe allergic reaction). The anaphylactic shock could have occurred due to the painkiller injection," said Arjun Kumar and also ruled out that the death was due to vaccination. He said that the painkiller injection Diclofenac is not being used in healthcare facilities for many years now and that  injectable painkillers are usually avoided.
Here's another message received on WhatsApp explaining it further: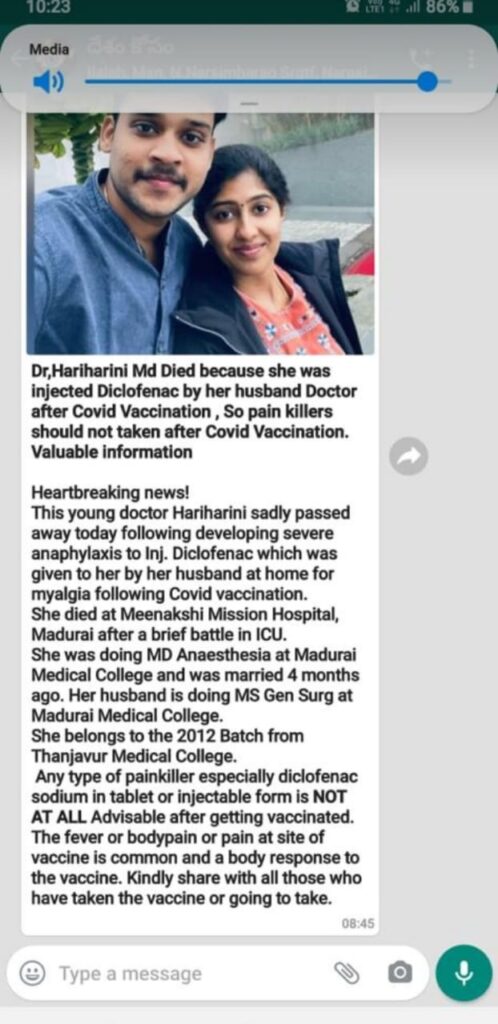 Myalgia is muscle pain/ache which is one of the side effects people have reported after vaccination. However, the messages did not claim that she died of vaccination but the narrative led many believe that it could be due to vaccination. In Harini's case, the symptoms of body pain and fever were almost a month after taking the vaccination, hence not related to vaccine, as stated by Arjun Kumar, who ruled out that the death of Harini was due to vaccination.
Secondly, the autopsy report establishes the fact that her death was due to allergy to painkiller injection given by her husband, also a doctor. As per Arjun Kumar,  the painkiller injection Diclofenac is not being used in healthcare facilities for many years now and that injectable painkillers are usually avoided.
Claim: Dr Hariharini of Madurai died one month after Covid vaccination
Conclusion: Dr Hariharini died of allergy to drug given a month after and her autopsy report rules out any link to Covid vaccination given a month before.
Our rating: Mostly False —