As elections to Kerala state Assembly are scheduled for next month, several poll-related misinformation has been gaining momentum in the state. One such video clipping of BJP leader N. Sreeprakash has been making rounds in which he was seen assuring people that he would ensure good quality beef if he wins.
In Kerala BJP promises to give good quality of beef if they come in https://t.co/3sWz3r94go this Hindutva?? pic.twitter.com/j9lllthXaJ

— Shenaz30 (@iraniShenaz1958) March 5, 2021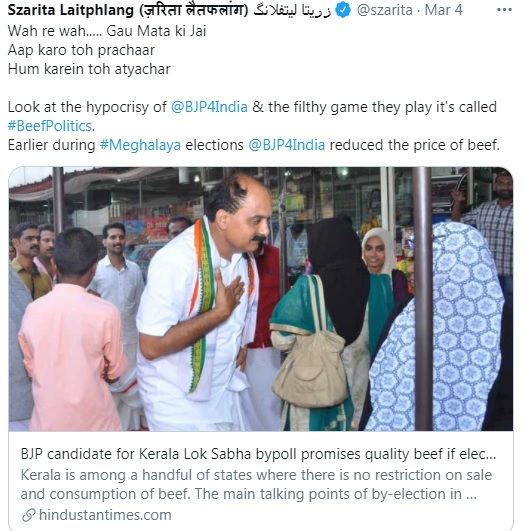 The video of India TV shows the BJP leader promising that good quality of beef will be made available in Kerala if he wins the election. The caption of the video says that the BJP leader made this remark ignoring his party's stand on cow protection in the country. The translation of the caption in Hindi reads:"Those who slaughtered people in the name of cows are promising beef in the election today. BJP's promise in Kerala, If we come to the government, the devotees will eat good cow meat."
The video has been widely shared on twitter with many people reacting to it here and here.
A Twitter user Sajjad Ahmad Khan, shared the video with a caption, "BJP is full of Hypocrisy…BJP Leader in KERALA announced to provide best BEEF to his Voters. BJP kisi ki sagi nhi@sagufa_momtaz @IamJavedAshraf#लाल_टोपी_वाला_गुंडा #ReleaseRanjitSingh"
Congress leader Salman Nizami and Congress national panellist Szarita Laitphlang also shared a tweet with a link to Hindustan Times's article based on the BJP leader's remark.
Fact Check
The unusual context and the wide reach on social media has forced us to check the claim. When searched for this news, it was found that the Hindustan Times article shared on Twitter was updated and published on April 30, 2017, and not now, ahead of the Assembly elections in April 2021.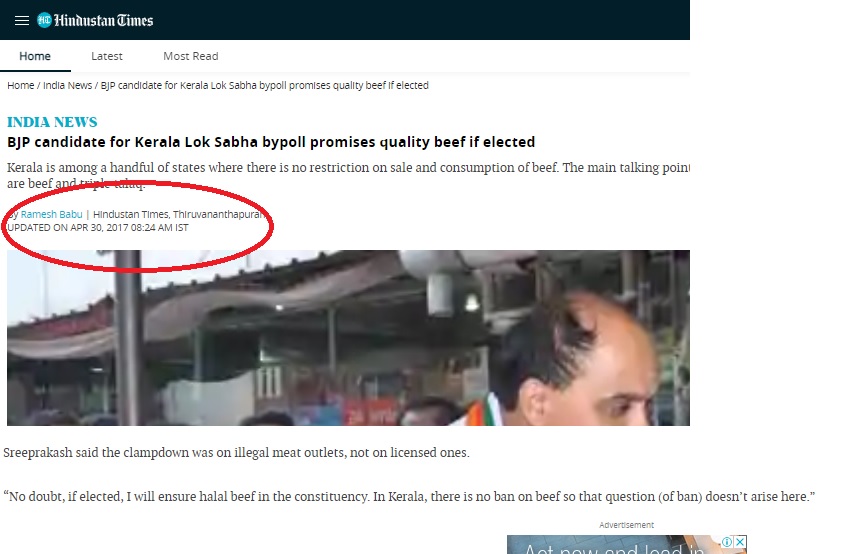 Similar search on Youtube threw up results of a video of BJP leader N Sreeprakash, who contested in 2017 by-elections from the Mallapuram Lok Sabha constituency of Kerala, making a poll pledge to ensure good quality meat for everyone.
However, as per The Times Of India report on April 3, 2017, a clarification was issued by Sreeprakash on the issue. He stated:"My point was about the necessity of establishing clean and modernized abattoirs, not about beef. Answering a question about the closure of abattoirs in UP, I replied that I will ensure the distribution of good-quality beef at clean abattoirs if I am voted to power. There was no need to create a controversy over my statement. After all, it is not the job of an MP to supply beef. The media misrepresented my words with a hidden agenda."
So, an old story with a misleading caption has been shared now to show Kerala's BJP leader making the quality beef remark as a poll time pledge.
Claim: Kerala BJP Leader Sreeprakash assures quality beef supply in Kerala, if elected.
Conclusion: BJP leader made a promise in 2017 to make provision for clean abattoirs is being shared now as 2021 state assembly elections are scheduled next month — April 2021. The clarifications was given by him already.
Our rating: The claim is misrepresentation –

.