A message on WhatsApp is making the rounds claiming that the Centre has approached the Supreme Court seeking censor on all coronavirus posts in social media platforms. The message claimed that under the Disaster Management Act (DMA), that has been implemented across the country, nobody except the government can update and post coronavirus related information on social media.
It has warned that WhatsApp group admins should take note of this development and cited an article by legal news website LiveLaw, which published a news report dated March 31, 2020 stating that the Central government had approached a directive from the Supreme Court to prohibit the publication of COVID-19 related news by news media, unless the facts are ascertained by a mechanism by the government.
However, the Supreme Court refused to give any such directive in favour of the government. Now the message is claiming that it was implemented and spreading fear among group admins over sharing the Covid-19 messages in groups.
Here's the message received on Digiteye India WhatsApp: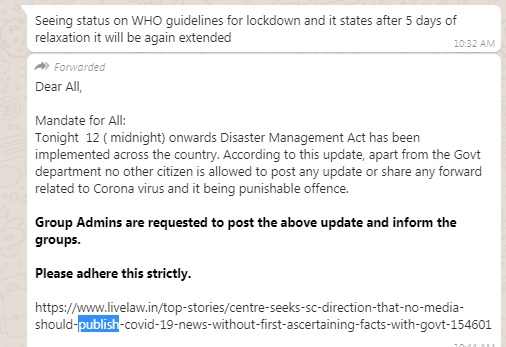 The message was linked to a legal website livelaw.in —    https://www.livelaw.in/top-stories/centre-seeks-sc-direction-that-no-media-should-publish-covid-19-news-without-first-ascertaining-facts-with-govt-154601
FACT CHECK
Digit India search revealed that the message has been going viralever since the Union Home Secretary Ajay Bhalla warned last week of strict action under the Disaster Management Act, against those spreading rumours. He told news agency ANI, "FIR will be registered against those involved in spreading rumours and action will be taken under the provisions of the DMA." However, the truth is that such provision has been disallowed by the Supreme Court saying that it could not inhibit free discussion around the pandemic.
Even the government's Press Information Bureau (PIB) has clarified that there is no such restriction on the messages related to novel coronavirus outbreak. Here's PIB's clarification message on Twitter: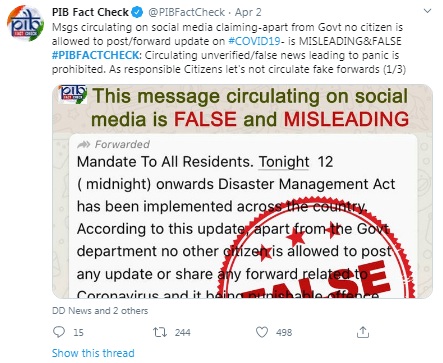 The message resurfaced again two days later and shared widely on WhatsApp. In response, PIB has again issued a denial as below: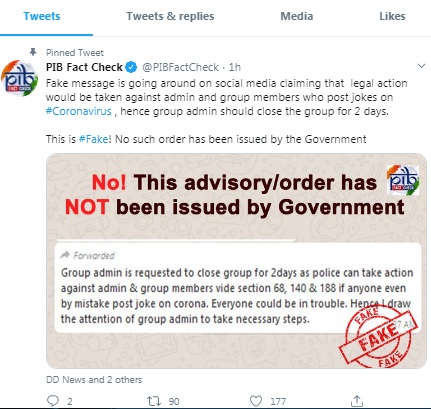 Conclusion: The claim is false and has been denied by the government repeatedly. Our rating is ????? Totally False.