In the name of an advisory from the global body, World Health Organization (WHO), is going viral on social media for over five days. The message claimed that India has been following a four-phase lockdown advice given by WHO to control the spread of coronavirus.
Here's the message received on WhatsApp: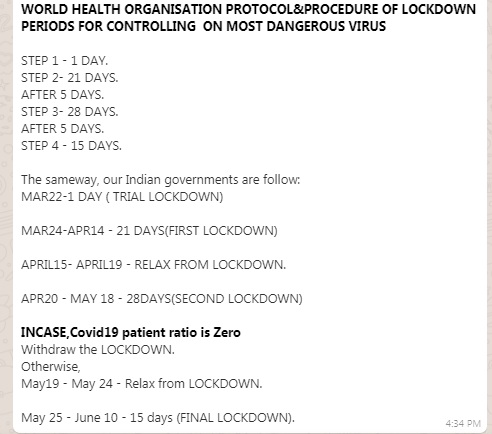 It's been shared widely on Facebook and Twitter too. Using the WHO logo, the message mentions that the current lockdown in India is still in its second phase of 21 days after a trial one-day lockdown on March 22. As per the WHO protocol, the Indian government is implementing it the following way:
After April 15, a relaxation period of five days will be observed and then the stage 3 of the lockdown will be enforced, this time for a stretch of 28 days. This again will be followed by a relaxation period of five days and the final lockdown will last for 15 days, if the situation persists.
FACT CHECK
Digiteye India team reached out to the office of WHO in India and was re-directed to a Twitter clarification by WHO Southeast Asia office which denied the claim categorically:
Messages being circulated on social media as WHO protocol for lockdown are baseless and FAKE.
WHO does NOT have any protocols for lockdowns. @MoHFW_INDIA @PIB_India @UNinIndia

— WHO South-East Asia (@WHOSEARO) April 5, 2020
WHO has left the lockdown to be decided by individual governments and there is no such protocol recommended but. Even China has not followed such pattern as the lockdown is in response to local conditions and requirements.
In fact, the message originated based on a mathematical model recently released by two Indian-origin researchers, Ronojoy Adhikari and Rajesh Singh, of the Department of Applied Mathematics and Theoretical Physics at the University of Cambridge in the UK. Their mathematical model predicts a flat 49-day nationwide lockdown is required to stop the COVID-19 epidemic in India.
"Our model suggests sustained periods of lockdown with periodic relaxation will reduce the number of cases to levels where individualised social contact tracing and quarantine may become feasible," said researchers in their paper, available on ArXiv.
Conclusion: The claim is based on rumours and research outcomes but not given by the WHO as claimed. Our rating is ??? Misrepresentation.