With the lockdown in the country, print media found itself in a crisis. Physical distribution of newspapers was affected because most societies stopped taking deliveries or the newspaper distributors refused to distribute them because people wouldn't let them in fearing infection, forcing some newspapers to stop  printing physical copies of newspapers amid fears of coronavirus.
Digiteye India received a copy of an article published on the front page of a regional newspaper. The article was published on May 3, 2020 in Hindi. The headline says "व्हाट्सएप ग्रुप में अख़बारों की पीडीएफ सर्कुलेट करना गैरकानूनी: आइएनएस" [Translation: Circulation of PDF copies of newspaper illegal, INS].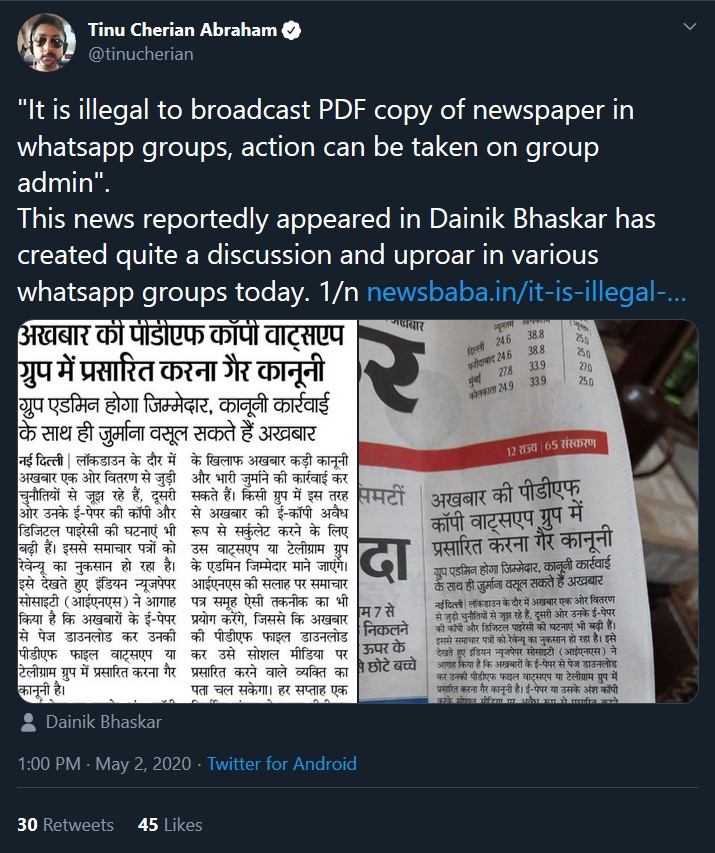 The article goes on to say how with the rise of e-papers, digital piracy is a rising concern for newspaper agencies. It states how people illegally download PDF copies of e-papers and circulate it on social messaging apps such as WhatsApp and Telegram for example.
Citing a statement issued by the Indian Newspaper Society, the news report says that any illegal copying or downloading of an e-paper and circulating it in the form of a PDF is a punishable offence. Posting a whole or a part of the e-paper on social media sites is also illegal. It also states if cases such as these are found then the group admin will be held liable.
The article is going viral on Twitter.

Fact Check:
The Indian Newspaper Society (INS), which is an apex body of the print media, issued an advisory to its members on April 30, 2020. According to a report by Newslaundry, the body said "A lot of newspapers are available in the epaper format online in the morning every day, some of them being paid and some being free. Many users are actually copying the newspaper and creating PDFs which they circulate in Whatsapp and Telegram groups to the readers, leading to a loss in both subscription revenue for the print newspapers as well as epapers digitally".
In a further report carried out by India Today, the INS president Shailesh Gupta clarified, "It is okay to forward PDF files which are free, but it is not okay to copy a PDF from a paid e-paper service and forward it. Basically, it is being targeted for aggregators who are trying to increase their traffic because of other newspapers; it is piracy".
It was found out that the circulation is not illegal but sharing a part of the paid copy as a PDF and circulating it is illegal. The advisory stated how this will be tackled by monitoring the number of copies a user downloads and the one who crosses asset limit will be blocked. It suggested bringing in changes in the JavaScript which will limit image downloading from the page.
Conclusion: Our rating of the claim is ?? — Misinterpretation.