An alleged video of a police officer shooting a couple in daylight is going viral on social media. The video has been shared multiple times on all social media platforms. Digiteye India team also received the video for fact-checking on its WhatsApp helpline number.
The video shows a young man arguing with a police officer. Matters escalate and the officer pulls out his gun and shoots the man. The young woman screams and shouts at the police officer only to be shot by him in the end.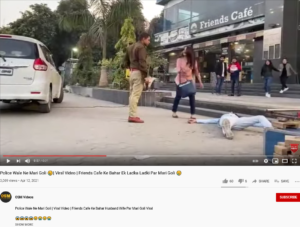 Fact Check:
The video has been shot outside "Friends Café". We conducted a search to find out where the café with similar outside settings was located in. Through Google Maps, we found the café to be located in Karnal, Haryana. We searched all local news media outlets to find reportage on this issue. An incident this massive ought to have been reported by local media channels. We found no such or no similar coverage on the same.
Another noticeable feature in the video was how there was no commotion or rush after the woman was shot too. None of the public in the scene rushed to help the couple. In one of the frames where the man is shot, he starts leaning back even before the gunshot.
In one of the keyframes towards the end, we saw production equipment placed in a corner.
In a tweet dated April 12 2021, Rahul Srivastav- the Additional Superintendent of Police of the Anti-Terrorism Squad in the state – tweeted about the video. Attaching the video, he tweeted:
#FactCheck- A video of a gory murder by a cop outside a restaurant is floating since today morning on #socialmedia, triggering queries & confusion. On verification, it's attributed to a #webseries shot outside 'Friends Cafe' in Karnal Haryana as per the manager of the Cafe.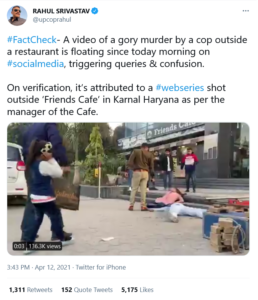 Claim: A police officer shoots a couple in daylight.
Conclusion: The video is from a rehearsal of a web series shoot in Haryana.
Rating:  Our rating

– Misinterpretation.