A 0:55 minute-long video shared widely on social media claims that "masks spread germs". The video is allegedly displayed on a digital display board outside a gas station. Social media users are sharing it claiming it is from Ireland. The video displays a lot of messages, some of them are:
– Masks spread germs

– COVID tests are fraudulent

– COVID is a psychological operation to collapse the world economy

– Experimental vaccines break the Nuremberg code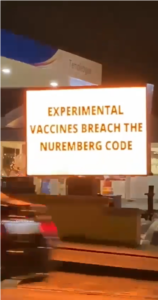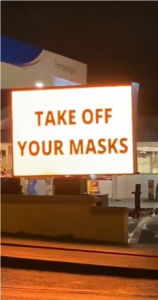 Fact Check:
In one of the frames of the video, we can see the gas station bearing the name- Maxol. Maxol is an Irish oil company founded in 1920. This confirms that the location is Ireland. In another keyframe, we can spot Templeogue written on a white background at the top. Templeogue is a southwestern residential suburb of Dublin in Ireland. It lies between the River Poddle and River Dodder and is about halfway from Dublin's centre to the mountains to the south.
On extracting the keyframes and running a reverse image search, Digiteye India team found out articles by Ireland based news websites. On January 18, 2021, Irish Central reported, anti-lockdown conspiracy theorists took over a parking lot outside a petrol station in south Dublin to spread misinformation about facemasks, lockdowns, and the coronavirus vaccine.
Several anti-lockdown slogans appeared on a portable electronic board outside Maxol Service Station in Templeogue. The petrol station quickly distanced itself from the incident. The report mentions that the petrol station condemned the incident in a statement on Instagram. "We would just like to make clear that any messages shown in this video are not the views or beliefs of the management or staff of Maxol Templeogue. The trailer was parked on our forecourt without permission but was quickly told to leave when management were made aware," the store said in a statement on Instagram.
In a January 15, 2021 report by Dublin Live, a Maxol spokesperson said: "It has nothing whatsoever to do with Maxol. Our priority is the health and safety of our customers and staff and that means complying with all government recommendations in relation to social distancing and mask-wearing."
Coming to the claims made in the display, masks are the most effective to protect from COVID-19. The Centers for Disease Control and Prevention states that "Masks are a simple barrier to help prevent your respiratory droplets from reaching others. Studies show that masks reduce the spray of droplets when worn over the nose and mouth. Several studies have found that people with COVID-19 who never develop symptoms (asymptomatic) and those who are not yet showing symptoms (pre-symptomatic) can still spread the virus to other people. Wearing a mask helps protect those around you, in case you are infected but not showing symptoms."
Dr P. Srinivasan, technical director at Neuberg Diagnostics and Chairman & Co-Founder of Be The Cure Registry and Jeenomics (Next Generation Sequencing HLA Laboratory) of Jeevan Stem Cell Foundation, Chennai, spoke how "RT-PCR will remain the gold standard for all viral infections. Even [with] RT-PCR one needs to understand… can it give a negative report when someone really has the infection? The answer is yes. One reason is when the test is done too early, when there is no viral material in the swab, and two, when the swab is not properly taken."
The Nuremberg Code is a set of medical research ethics principles for what it calls "permissible medical experiments." It was created in response to Nazis performing medical experiments on concentration camp prisoners without their consent. Vaccines that have gone through multiple rounds of testing in clinical trials and have then been approved for widespread use by regulators are not in violation of the Nuremberg Code's principles. "The Nuremberg Code is about doing human experiments, not vaccination," said Dr Jonathan Moreno, professor of bioethics at the University of Pennsylvania. "The Nuremberg Code is perfectly compatible with vaccination."
Claim: Video claims masks spread germs
Conclusion: None of the claims is scientifically proven right.
Our rating

– Totally False.