A poster with "suggestive treatment for suspected contact with covid-19 positive" people is doing rounds on social media.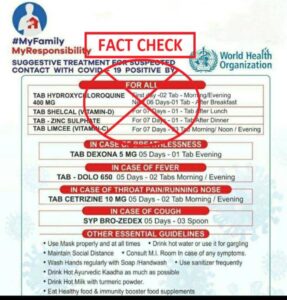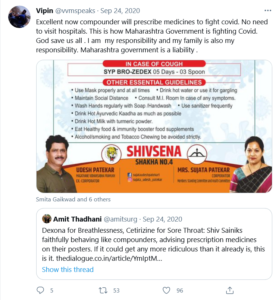 The poster suggests medicines and vitamin tablets. Along with these medicines, the poster has also laid down "other essential guidelines" which include:
Use mask properly and at all times
Drink hot water or use it for gargling
Maintain social distance
Consult M.I Room in case of any symptoms
Wash hands regularly with soap/handwash
Use sanitizer frequently
Drink hot ayurvedic kaadha as much as possible
Drink hot milk with turmeric powder
Eat healthy food and immunity booster food supplements
Fact Check:
Digiteye India team conducted a reverse image search and found out the original image from which the images have been cropped out. The original poster is a part of the Maharashtra state government's 'My Family My Responsibility' scheme which aims to control the pandemic through public participation. The poster was made in September 2020.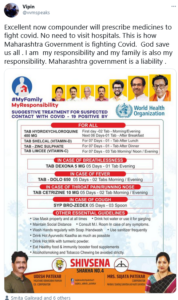 The first medicine suggested is "Hydroxychloroquine 400mg tab" for seven days. Hydroxychloroquine is a prophylactic drug that is used for asymptomatic contacts and frontline workers, according to the Indian Council of Medical Research. The drug has to be given under strict medical supervision with informed consent and only on the prescription of a registered medical practitioner.
The PSA suggests Shelcal tablets. It contains a combination of Calcium and Vitamin D3. It is generally prescribed to treat calcium and vitamin D3 deficiency and other conditions like osteoporosis, osteomalacia. As it is primarily a Vitamin D tablet, clinicians state that dosing on the vitamin in hope of being protected from the infection is a fallacy, as the best and only protection against infection remains hand-wash, wearing masks and social isolation.
Zinc is an essential micronutrient for health. Zinc deficiency lowers the immune system. While some scientists agree to the use of zinc sulphate tablets as a prophylactic, some are against the idea. The National Institutes of Health, USA recommends against using zinc supplementation above the recommended dietary allowance for the prevention of COVID-19.
Limcee Vitamin C tablet is a vitamin C supplement. It will not prevent COVID-19 but taking too much can also cause diarrhoea and nausea.
Dexona is used to treat various inflammatory conditions and auto-immune disorders. Dexamethasone works by dampening down the body's immune system. It is only suitable for people who are the most unwell. The drug does not work on people with milder symptoms because suppressing their immune system would be harmful.
Dolo tablets are prescribed for fever and to relieve mild to moderate pain. Cetrizine, on the other hand, is used to treat allergies. Bro Zedex Syrup is used in the treatment of cough. It thins mucus in the nose, windpipe and lungs, making it easier to get the cough out.
The "other essential guidelines" are good practices but they do not prevent COVID-19.
The Indian Medical Association issued a letter signed by Maharashtra state IMA president Dr Avinash Bhondwe and secretary Dr Pankaj Bandarkar. While they welcomed the campaign, they objected to the medications. "These are all prescription medicines or scheduled drugs. This is a serious violation of the Drug & Cosmetics Act of 1940-1945," said the letter. "These steroids are not to be taken by the persons with diabetes, osteoporosis, GERD, and gastritis, otherwise there are serious outcomes of it," the letter added. "Many of the medicines are shown with brand names, which is wrong and the dosages are also incorrect", the statement added.
Claim: Poster claims tips on self-medication and treatment for Covid-19
Conclusion:
The World Health Organization has strictly advised against self-medication. Any symptom if shown should be addressed to a doctor.
Our rating

– Misrepresentation.