A video is going viral on WhatsApp claiming that an ordinary nebulizer is enough to take care of oxygen requirements for the Covid-19 patients. The presenter wearing a stethoscope and claiming himself as Dr Alok from Sarvodaya Hospital, Faridabad, explains in the video that a nebulizer is a substitute for oxygen cylinder. Here's the video:
The presenter claims that he was a doctor from a Faridabad hospital Sarvodaya. He opens in the video saying that breathing air without any additions from the nebulizer is enough to balance oxygen requirements. The video is going viral in view of the acute shortage of oxygen in hospitals and the alarming rise in Covid-19 deaths in India.
Fact Check:
The Digiteye India team fact-checked the claim and found that there is no scientific explanation behind the claim. A Nebulizer is not a replacement for oxygen. Further search on Google showed that the hospital from Faridabad has clearly distanced itself from the person who has made the claim in the video and its contents.
"A video has gone viral on use of nebulizer as a substitute of oxygen cylinder and is circulating in the name of Sarvodaya Hospital, Faridabad. The video has not been backed by any evidence or scientific study, does not reflect any medical advice and is in no way endorsed by Sarvodaya Hospital, Faridabad."
It also cautioned people not to heed any such advice. "Please do not follow any such practice without consulting your medical practitioner. It could lead to worsening of the disease."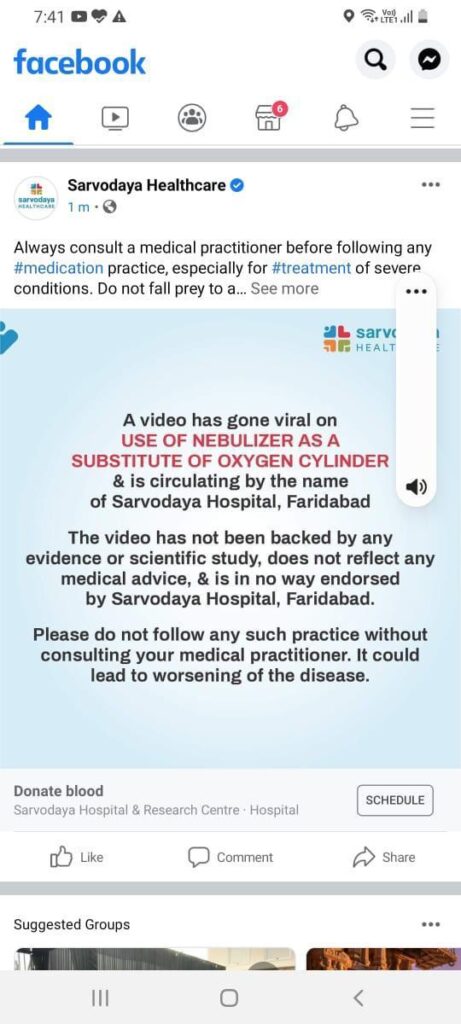 Claim: Nebulizer is a substitute for oxygen for covid-19 patients.
Conclusion: No scientific evidence for the claim that a nebulizer is enough to replace oxygen requirement and the presenter wrongly claims his credentials as a doctor.
Our Rating: Mostly False —