According to a widely forwarded WhatsApp message, the Indian government is allegedly giving three-month data packs for free to 100 million users. The forwarded message is in Hindi. DigitEye India team also received the message for fact checking.
The message reads "भारत सरकार द्वारा online पढ़ाई के लिए 100 Million यूजर्स को 3 महीने वाला Recharge Plan फ्री में देने का वादा किया है। अगर आपके पास Jio , Airtel या Vi का Sim हैं तो आप इस ऑफर का लाभ उठा सकते है ।मैंने फ्री रिचार्ज पाया, आप भी कर सकते हो। नोट:- नीचे दी गई लिंक पर क्लिक करके अपना फ़्री रीचार्ज प्राप्त करें 👉🏼 https://get.free-mb.com कृपया ध्यान दे: यह ऑफर केवल 30 APRIL 2021 तक ही सिमित है!"
Translation: "The Indian Government has promised to give three month data recharge plan for free to 100 million users for online education. You can only avail the benefits if you have a Jio, Airtel or Vi sim. I have received my free recharge, you can do so too. Click on the link 👉🏼 https://get.free-mb.com to receive the free recharge. Please note: Offer is valid only till 30th April 2021."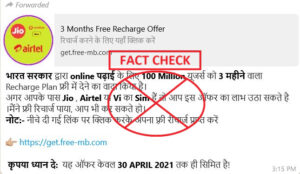 Fact Check:
DigitEye India team opened the website link attached in the forwarded message. The website was no longer accessible. It had been taken down. On further research, we saw similar claims being shared on social media.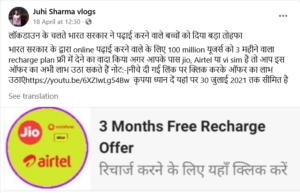 These messages had been circulating since the beginning of the pandemic. With the onset of the pandemic, schools and colleges were shut. Classes were held online on video conferencing apps and via recorded lectures. In the absence of a wifi connection, students were using their mobile phones and mobile internet data.
Jio, Airtel or VI have no such confirmation uploaded on their websites. No such information has been made public. Similarly, even the Government of India or the Ministry of Electronics and Information Technology have any such information available.
The Press Information Bureau Fact Check had debunked a similar claim in October 2020. "It is claimed in a #WhatsApp message that government is providing free internet to all the students so that they can give online exams and complete their education amid #COVID19 pandemic. This claim is #Fake. No such decision has been taken by the government," tweeted PIB Fact Check.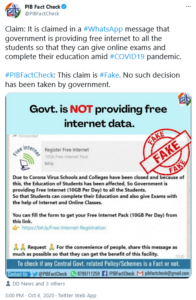 Claim:
The government is giving free internet data for three months to 100 million users for online education.
Conclusion:
There has been no such initiative by the government. If an initiative of this measure was undertaken, it would have been widely reported. We found no evidence of the claim.
Rating:
Our rating

– Totally False.