A WhatsApp message forward claims that lying down on the chest and deep breathing increases and improves oxygen levels in the body. The message which has been forwarded many times claims to recount the personal experience of an individual who was suggested this method by "the best pulmonologist of the country."
The message claims that lying down on the chest or stomach miraculously increases the oxygen levels in the body. It also claims that seeking oxygen cylinders is an "easy option". The message also claims that "to tackle this virus in severe cases, at family/ individual level, one needs extremely strong mind".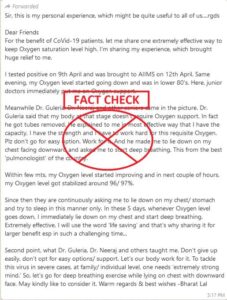 Fact Check: 
Digiteye India team received the message for fact-checking on its WhatsApp fact check number. A keyword search reveals that this technique is called 'proning' and lying in the specified method is called lying in a prone position. In the prone position, patients are made to lie down on their chests and stomachs with their head turned to one side. This position is supported with the help of pillows.
This position is beneficial as laying on your front stops your heart and stomach from pressing down on your lungs and allows the air sacks within the lungs to fully inflate. This can mean that patients require less oxygen overall and, in some cases, can delay or prevent the need for intubation and ventilation.
Prone position can be used as adjuvant therapy for improving ventilation in covid patients. The position of patients placed in prone position should be changed every 2 hours and sides should be switched. The minimum suggested duration of the prone position is 12 hours a day. While sleeping on the belly seems easy to do for patients that are not connected to any ventilators or oxygen cylinders, it is recommended to be most effective for ventilated patients.
Speaking to Outlook India, Dr Praveen Gupta, director and head of department, neurology, Fortis Memorial Research Institute, Gurugram said, "This position helps in improving oxygen flow in patients who are critical, in turn ensuring that they are less likely to require ventilator support."
Recently even the Ministry of Health and Family Welfare also suggested the proning method for COVID-19 patients as a self-care method. The position should be avoided in times of pregnancy, deep venous thrombosis (treated in less than 48 hours), major cardiac conditions and for patients with unstable spine, femur or having pelvic fractures.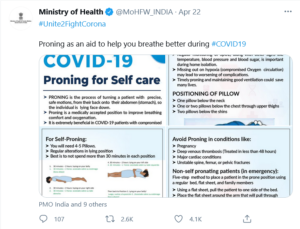 Experts caution that proning is not a cure. Speaking to The News Minute, Dr Rajavardhan R, Consultant Intensivist at Manipal Hospital Whitefield in Bengaluru said, "Once they turn back, it will go back to the same levels. It's a measure taken so that it gives some time for medicines to act in critical care conditions. He said all hospitals are following this in the emergency, ICU and wards."
Claim: 
Proning method can save lives.
Conclusion:
While proning method is extremely helpful, it is not suggested for patients who are in critical need of oxygen. This method should be seen as a way to buy more time till oxygen or ventilator is made available. It should not be seen as the only cure.
Rating: 
Our rating

– Misinterpretation.