A gruesome image of a wounded woman sprawled on a road is going viral. The image shows the woman lying on the road with blood around her stomach and people have gathered around her body. The image has been going viral on social media with many netizens claiming that the image is of journalist Pragya Mishra. In one of the posts, the user claimed, "Pragya mishra murdered in broad daylight because she was talking in news about kumbh mela in the era of coronavirus".
(Image has been blurred for depicted violence)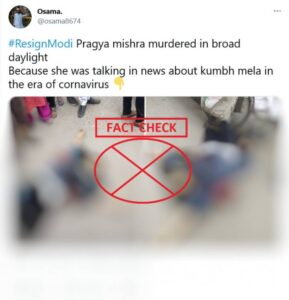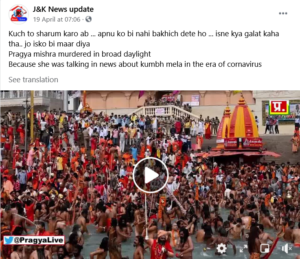 Fact Check:
Digiteye India team also received the image for fact checking on its WhatsApp fact check number. A reverse image search revealed that the woman in the picture is not Uttar Pradesh based journalist, Pragya Mishra. The search results show that the woman is Neelu Mehta. Mehta was murdered by her husband who suspected her of having an affair. She was stabbed with a knife in Delhi's Budh Vihar area on the afternoon of April 10, 2021. Mehta was taken to the Sanjay Gandhi Hospital where doctors declared her as brought dead. Deputy Commissioner of Police (Rohini) Pranav Tayal said that a case of murder was registered at the Vijay Vihar police station and the accused was apprehended from the spot and later arrested.
Detailing the crime in a press statement, the police said a team of policemen from Vijay Vihar succeeded in nabbing Harish Mehta, the husband, who had brutally murdered his wife in broad daylight and also recovered a blood-stained knife from his possession.
Pragya Mishra took to Twitter and called these posts rumours. On April 18 2021, she tweeted that she is alive and safe at her home and the news of her murder is false.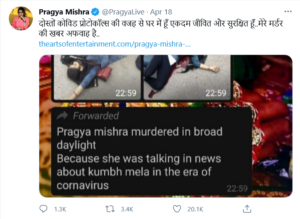 On the same day, she also posted a video on her YouTube channel calling out the rumours.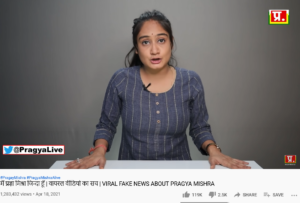 Claim: Pragya Mishra was murdered in broad daylight.
Conclusion: Pragya Mishra is alive and has called these rumours.
Rating:  Our rating

– Totally False.