As Indian pilot Abhinandan Varthaman returned to India safely on Friday, (March 1, 2019) night, some videos, mostly on Twitter handles from Pakistan, have been making rounds. See them here:
Indian Pilot Abhinandan Dancing & Having Good Time With Pakistani Army. Something To Be Cherished In These Hard Times When War Mongering And Hatred Is On Rise. @sajadlone @OmarAbdullah #indiapakistantensions #IndiaFreesAbhinandan https://t.co/yG9YtaMl8y

— Mansoor Banday (@MansoorBanday) March 1, 2019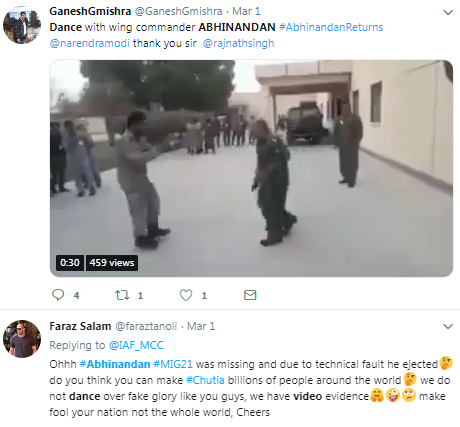 The context and the difference in uniform looked believable initially. But a closer look at the Pakistani officer who was wearing slightly darker uniform in the dance looked shorter than how we have seen Abhinandan on TV so far. His face and hair style do not resemble Indian officer, either. But a first glance is likely to mislead viewers. The wrongly captioned video has been shared widely by Pakistani twitter handlers.
When the video was checked further by Digiteye India team, we found that the dance video was dated older than the day Abhinandan participated in the Mig-21 chase of intruding Pakistan aircraft. Upon further search on Google Reverse Video check frame-wise, it threw up the original video that was first put up on Facebook on February 24, 2019 by Dugdugee, a Pakistan-based online news and entertainment channel with several videos to its credit.
One of them was a video that was put up on February 24, 2019 and below is the image that shows clearly that it was uploaded on February 24, 2019 and not after Abhinandan was in their custory. Its caption reads: "Dear all, in the heat of battle discussions, lets enjoy some joyous moments of our PAF Officers & Soldiers!"

The original video:
The video was uploaded three days before Abhinanandan participated in air warfare with Pakistan air force on Wednesday, February 27, 2019. He ejected from the Mig-21 fighter on Wednesday morning and landed on the territory under Pakistan's occupation and was caught, leading to his final release by Pakistan on March 1, 2019.
Conclusion: At a time when India is upbeat with the return of its fighter pilot Abhinandan, a fake video was uploaded on social media by the Pakistan twitter handlers and widely shared. Our rating for this claim is ????? (Totally False).