Amid border tension over the capture of Indian Air Force pilot Abhinandan Varthaman by Pakistan, a news story on website The News said that the Indian government has removed a senior air force officer reportedly after Pakistan's "successful strikes and capturing of a pilot" on February 27. See the screengrab here: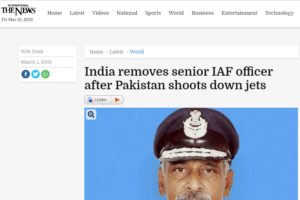 Soon, it went viral on social media, especially from several handles in Pakistan, saying that the "inefficiency of the Air Marshal" made the Indian Air Force sack him. Here are some of them:
#IndianAirForce has SACKED AOC-in-C of its Westeran Command, Air Marshal Chandrashekharan Hari Kumar after losing several aircraft to #Pakistan in the recent stand off. Air Marshal Raghunath Nambiar replaces the officer. @IAF_MCC #WelcomeBackAbhinandan pic.twitter.com/ymnfZvjmJ1

— Defence Expert (@DefenceExpert) March 1, 2019
This is the reason why Indian Air Marshal was sacked pic.twitter.com/DmiFBW8065

— Mohammad Kamran Khan (@Kamran0175) March 1, 2019
When searched further on Twitter, the message put out by the Ministry of Defence stated clearly the Air Marshal actually retired. His last working day was Thursday, February 28, and he was given a warm ceremonial send off by the command. Further research by Digiteye India team led us to get the following PIB press release, which is usually given out everytime a high official retires from his office. See it  below: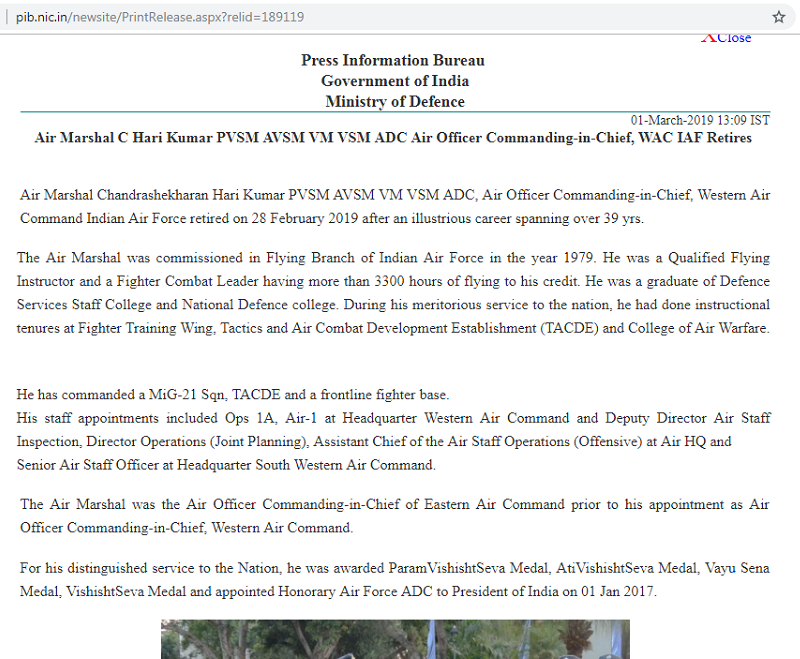 Conclusion:  Air Marshal Chandrashekharan Hari Kumar has retired in normal course of action after a distinguished 39 years of service and no extension is given in Indian armed forces. While Pakistan-based "The News" updated its news later, the old fake news has gone viral on social media. Our rating for this claim is ????? (Totally False).