A viral WhatsApp forward claims that the armed forces have started a COVID care centre near Mumbai Airport. The message claims that the "1000-bedded Covid Care Hospital is very close to Domestic Airport Terminal 1, Santacruz" in Mumbai. The centre will be manned "by critical care specialists, pulmonologists, doctors and nursing officers of the Indian Armed Forces." The address is given as "Near Terminal 1, Next to Raksha Sampada Bhavan".
The WhatsApp forward has also been shared widely on all social media platforms.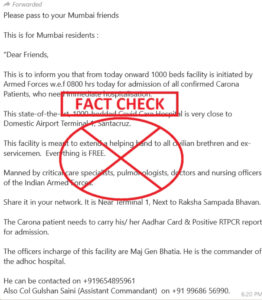 Fact Check:
When the Digiteye India team was researching this alleged development, we saw similar messages being circulated for Delhi, Mumbai, and Pune. All the messages had the same text and even the same phone numbers attached.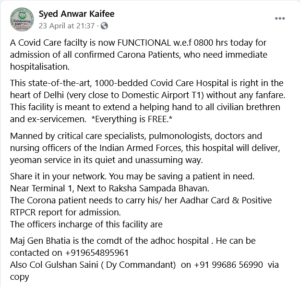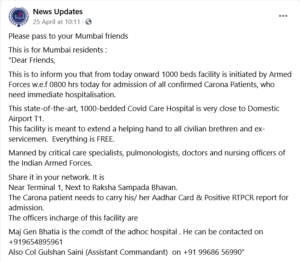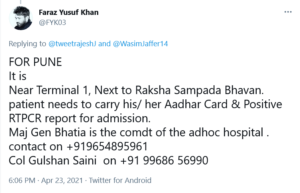 Another search result revealed that the Raksha Sampada Bhavan is in Delhi Cantonment Area and not Mumbai. Further research brought us to an article by The Times of India dated June 2020. The article states that a 10,000-bed Covid care centre at the Radha Soami Satsang Beas ashram in south Delhi would be operational by June 26 and another 1,000-bed hospital was being developed by DRDO and Tata Trust near Indira Gandhi International airport.
On July 5 2020, the 1000-bed hospital by DRDO and Tata Trust was made operational at the Sardar Patel hospital. The hospital was built on the Air Force land near the airport and will be manned by armed forces personnel. While the hospital was shut in the first week of February after daily Covid-19 cases came down, it reopened on April 18, 2021, as reported by All India Radio News. The medical facility got 250 additional ICU beds.
Meanwhile, the PRO Defence for Mumbai took to Twitter and called the claim false. The handle tweeted, "FAKE NEWS ALERT! There is a message circulating on social media that a 1000 bedded #COVID19 care hospital by Indian Armed Forces has been established near Airport terminal T1 at #Mumbai. This has no basis and is FAKE news. @PIBMumbai @CMOMaharashtra @mybmc @MahaDGIPR".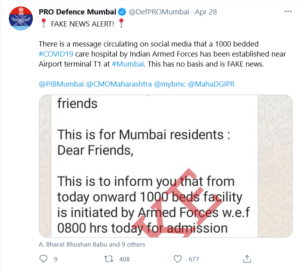 Claim: Armed Forces started a COVID Care Centre near Mumbai Airport.
Conclusion:  A medical facility by DRDO has been started in Delhi and not Mumbai.
Our Rating: Our rating

– Mostly False.