Many videos have gone viral on social media claiming that Janata Curfew underway in India, to be followed by a clap from balconies was with a purpose. Twitter and Whatsapp messages claimed describing the clap and sound-making applaud as "sound therapy" meant to ward off evil spirit.
In another round of social messages, it was claimed that coronavirus will die during the 12-hour 'Janata Curfew'.
See the message on Twittter here:
*By Pranic healer

PM has asked to clap hands/ring bells at 5.00 Pm to honor people who helping in controlling virus. Actually its sound therapy to cleanse environment. 130cr clapping/ ringing bells at same time,will effect huge
Virus gets decimated, unique proposal.let's comply

— raj (@raj2jas) March 21, 2020
Amid these images, some explanatory videos on sound therapy claiming to "cleanse infections" has caught the attention and started making rounds as the one below:
Digiteye India took it up for fact checking.
As per WHO guidelines, there's no alternative but to fight novel coronavirus by avoiding human-to-human touch or following social distancing. This preventive method proved useful to contain the virus. WHO guidelines prescribe keeping up personal hygiene and avoid human touch as the virus has been found asymptomatic. It passes on from human to human before its symptoms become apparent such as cold, cough and breathlessness.
As far as the sound therapy that is referred in Twitter and WhatsApp messages is concerned, there is NO link between sound and the virulous pathogen's disappearance from air. According to British Academy of Sound Therapy, sound in the form of music has been advised merely to keep mental stress under control, with no mention of virus decimation.
This is amazing 💕 the true power of the human voice in hard times. https://t.co/HRMLZJrVNC

— BAST – Sound Therapy (@BASoundTherapy) March 15, 2020
Fact check:
What Indian Prime Minister Narendr Modi asked citizens was to follow self-curfew for 14 hours on Sunday and at 5 PM local time asked them to come out in balconies and clap or make sound to support the doctors and other government staff who are working to help contain the coronavirus. It was followed in Italy and other countries and the practice is no new either.
Here's what PM MOdi said:
— Pooja Tibdewal (@tibdewalpooja) March 20, 2020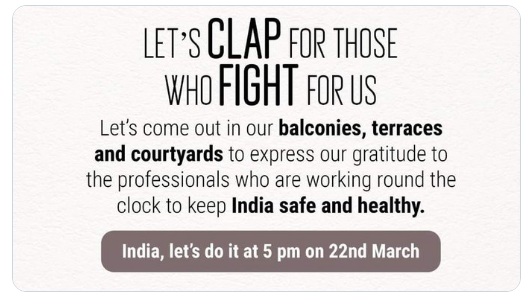 Conclusion: Clearly PM Modi was emulating the Italian model to instill confidence among people but it was misinterpreted as sound therapy on social media. Our rating of the claim is ??? Misrepresentational.