A message in Hindi is making rounds on WhatsApp and the same was received by Digiteye India for a fact check. It's being shared on social media warning readers that crackers made in China are being filled with carbon monoxide to spread asthama among Indians as a conspiratorial attack. Here's the message: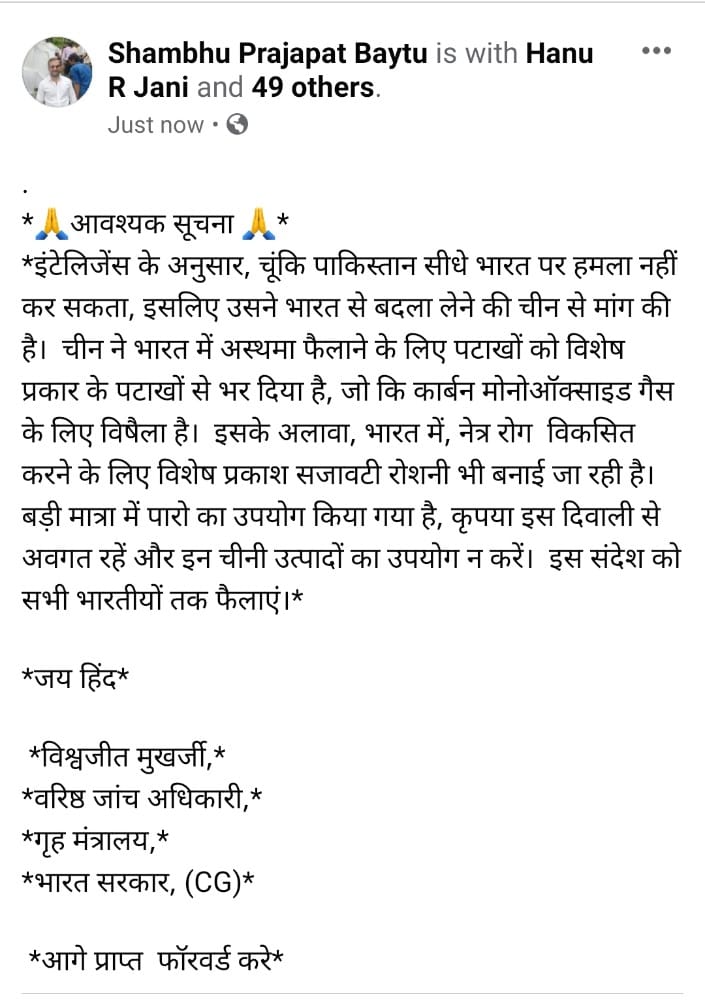 Its Hindi translation reads: "A Serious Alert … According to intelligence reports a frustrated Pakistan, since it is incapable of attacking India in a direct war, is seeking Chinese help to harm India … A different kind of crackers that produce smoke to cause Asthma in people who inhale that smoke.
2.Besides these crackers are also designed to produce Carbon Monoxide to cause breathing difficulty in people.

Further, China is reportedly producing decorative coloured electric bulbs and serial bulbs with a high content of Mercury. The light produced / emitted by these bulbs can be highly injurious and cause vision loss, especially among children.

China is planning to flood the Indian market with these dangerous products ahead of Diwali. The public are advised to avoid purchasing any such products Made in China.The Citizens are hereby requested to forward and propagate this serious alert to the maximum extent possible among contacts, friends and relatives …
Jai Hind

From : Biswajit Mukherjee,
Senior Investigation Officer,
Ministry of Home affairs,
Government of India."
Fact-check
A random check revealed that the message has been in vogue since 2017 and ahead of every Diwali, it was being shared on social media. It was also shared in 2018 on Twitter:
Big volume is filled with mercury in Chinese decorative lights.

Please do not use these Chinese products for your own dear life and also for the safety of the country.

Biswajit Mukherjee, Senior Investigation Officer, Home Ministry, Government of India

— Shivendra K Sinha (@ShivendraKSinh1) October 30, 2018
The Ministry of Home Affairs denied the message and the PIB Fact Check issued a clarification to this on Nov 3, 2020 and also confirmed that no such official by name "Biswajit Mukherjee" works for it.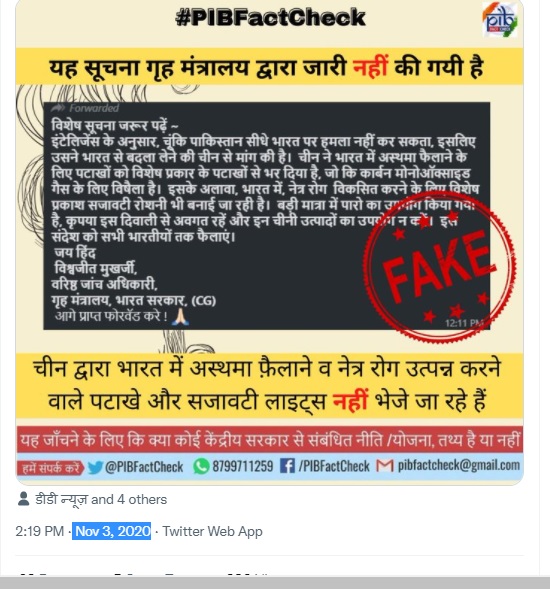 In conclusion, it said it was an unsubstantiated message and that no such harmful crackers are being sent to India by China.
Claim: China supplying harmful crackers to India to spread asthma and sight dificiency among Indians.
Conclusion: No such harmful ingredients found in crackers supplied by China, according to a clarification by the Home Ministry and the PIB Fact Check.
Our rating: Misinterpretation —