Social media is abuzz in the wake of Indian Prime Minister's return from a 3-day visit to the US and the United Nations claiming that he was accorded praise by the New York Times (NYT).
A clipping shows the NYT front page titled, "Last, Best Hope of Earth" with a picture of Modi and a summary at the bottom reads: "His Highness, Modiji is signing on a blank a4 paper to bless our country… har har mahadev."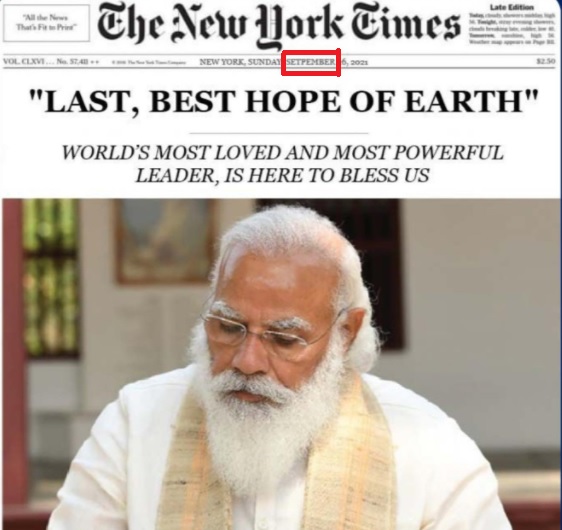 The claim on social media is going viral in view of Modi's return to India on Sunday amid reports which described the visit as productive one coinciding with the Quad summit with the leaders of the US, Australia and Japan.
FACT CHECK
The paper clipping was received by Digiteye India on its Whatsapp number with a request for fact checking as it was going viral. A first look at the clipping showed absurd typos unheard of from NYT. Secondly, the image was photoshopped.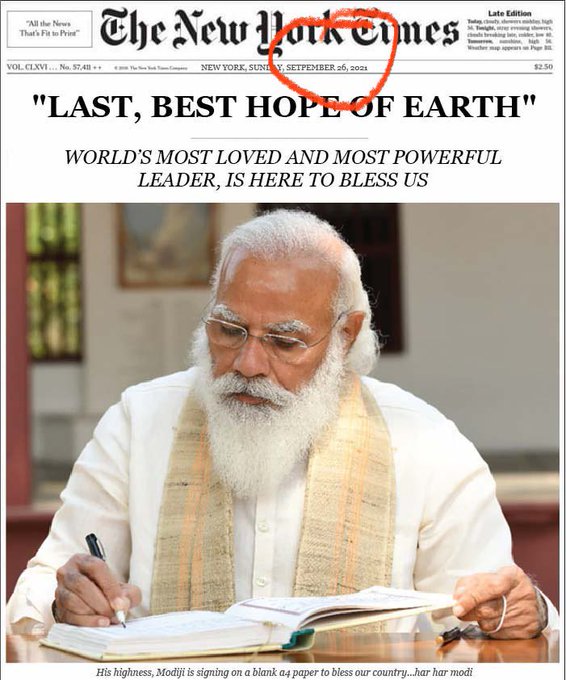 The spelling of the month "September" is typed as wrong. Secondly, the language of the viral article image makes it look suspicious. For instance, right below the article is a sentence that reads: "His Highness, Modiji is signing on a blank a4 paper to bless our country… har har mahadev." This is not used in diplomatic language, leave alone in any newspaper.
Thirdly, our search for the image on Google Reverse Image search showed that the claim for the image was equally falsified. Here's the link to the original image used on official Modi's website related to Ease of Doing Business page. Even the beard that Modi was sporting in the picture was longer compared to his recent image showing a trimmed one.
The same image was used here with a caption that never suits any official website page. Hence, the entire image, claim and news coverage are false claims.
Finally, NYT has come out with a statement denying that it carried any such news item. Here's it's statement on Twitter:
This is a completely fabricated image, one of many in circulation featuring Prime Minister Modi. All of our factual reporting on Narendra Modi can be found at:https://t.co/ShYn4qW4nT pic.twitter.com/gsY7AlNFna

— NYTimes Communications (@NYTimesPR) September 28, 2021
CLAIM: New york Times carried a front page news praising Modi as saviour of earth.
CONCLUSION: No such new coverage was made by NYT and the image was photoshopped.
Our Rating: Totally False —