For all those who passedout of JNU, this viral messge would come as a shocker. It claims that Jawaharlal Nehru University (JNU) in New Delhi will be celebrating Republic Day for the first time in 50 years. The viral post further claimed that this has been made possible only because of Prime Minister Narendra Modi.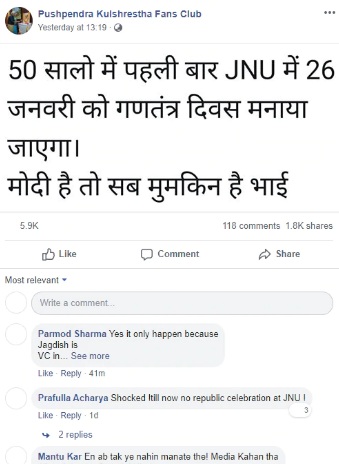 Here's the Facebook page by Pushpendra Kulshrestha Fans Club which has uploaded a post in Hindi and shared by over 2,000 times on social media platforms. It stated in Hindi, "For the first time in 50 years, Republic Day will be celebrated on January 26 in JNU. If Modi is there, everything's possible."
Here's a similar message on Twitter:
50 सालों मे पहली बार JNU में 26
जनवरी को गणतंत्र दिवस मनाया
जाएगा।
मोदी जी है तो मुमकिन है भाई 🙏🙏#दिल्ली_देगी_सबूत#RisingNewUP

— Sintu Tiwari🇮🇳 💯🚩% FB (@SintuTi87593664) January 24, 2020
Digiteye India has contacted with former JNU-ites and found that the claim was wrong.Many of them remembered when the tricolour was hoisted by many former VCs or Deans in the past, going b has found that there is no truth to the clack to the 1980s on every Republic Day.
Since no archives are available online, going back to the last available resources online, Digiteye India was able to grab the following messages to prove that the Republic Day was an event planned regularly and annually inside the campus. See the screen grabs from JNU official website:
Conclusion: The claim that the Republic Day is being celebrated in JNU for the first time in 2020 was totally false and our rating is ?????