A photo of a flooded garment showroom is viral on social media with false claims that it shows the current condition of Mumbai after the city was lashed with heavy rains over the past few days. The image shows rows of suits for men submerged in water.
The caption reads, "MUMBAI ; RAIN , RAIN , EVERYWHERE !!". The photo is viral on Twitter with similar claims.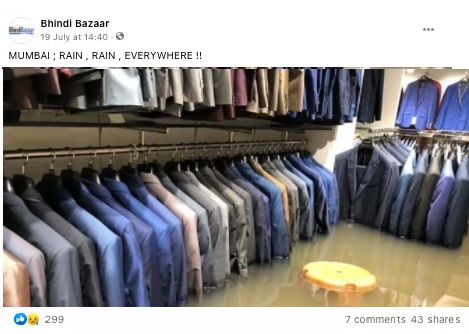 The image started making rounds when Mumbai received heavy rains on July 21, estimated to be 90 per cent of the total average rainfall of the entire monsoon season. While the state was gearing up for recue and relief measures in Ratnagiri and Raigad districts, the Indian Meteorological Department had placed the districts on red alert.
You can imagine what havoc the rain is causing in #Mumbai .#MumbaiRainUpdate #MumbaiRains Weather 😑 pic.twitter.com/MtUkrbeTUR

— Manisha Choudhary (@manisha_jaipur) July 18, 2021
Fact Check
In a reverse image search of the image, the search result landed us in old news articles of Naidunia dated September 28, 2019, when Bihar floods swamped a Raymond showroom at Hathwa Market in Patna. Further search on Google showed several news reports of Bihar floods and NOT Maharashtra as shown here and here.
As per these reports, more than 29 people lost their lives due to flooding caused by heavy rains in Bihar in 2019 and the Ganges swelled up due to heavy rains, while trains were halted and power was disrupted in the state capital. It was during this time that the Hindi news channels showed how garment shops were affected in Patna due to heavy rain in 2019.
Claim: Raymond garment showroom in Mumbai flooded in water in July 2021
Conclusion: The image was old, taken in Sept 2019 when Patna garment shops were flooded with water from heavy rains.
Our rating: Misinterpretation —