Soon after Mirabai Chanu scored silver at Tokyo Olympics in weightlifting 49kg category on Friday, another news hit the social media on Sunday that India won gold in wrestling, triggering a rush to  congratulate the wrestler Priya Malik in all enthusiasm.
Celebrities were in the forefront busily posting their views on their social media handles congratulating Priya for winning gold in Olympics, including National President of BJP Yuva Morcha and Member of Parliament for Bengaluru South Lok Sabha Constituency Tejasvi Surya, and actor Milind Suman.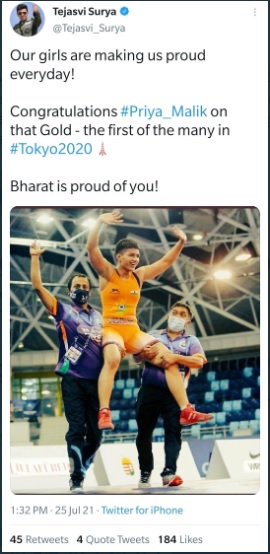 "Having a proud Indian moment as the amazing #PriyaMalik and @mirabai_chanu bag two medals already! #GoIndiaGo #Olympics #ProudMoment".
Fact Check:
When the Digit India team checked the results of Tokyo Olympics official page, there is no mention of Priya Malik or India winning any such event on Sunday. But other results showed that the wrestler actually won gold after defeating Belarus' Kseniya Patapovich by 5-0 but the event is not related to Tokyo Olympics but to the World Cadet Wrestling Championship, which was held in Budapest. India won 13 medlas in the event.
Our sportspersons continue to make us proud. India wins 13 medals, including 5 Golds at the World Cadet Championships in Budapest, Hungary. Congratulations to our team and best wishes for their future endeavours. pic.twitter.com/3HlOrKTtDB

— Narendra Modi (@narendramodi) July 26, 2021

Among the 13 medals won, Priya Malik's won the gold in the 73kg wrestling in the World Cadet Wrestling Championship held on Sunday, 25th July and not in Olympics.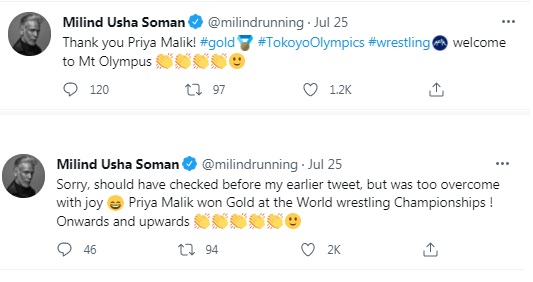 Bollywood model Milind Soman retracted his message as shown above, corrected it and said that it was done in a moment of 'joy' and congratulated the wrestler for winning gold in World Wrestling Championship.
Another has reasoned out as the way to reach more.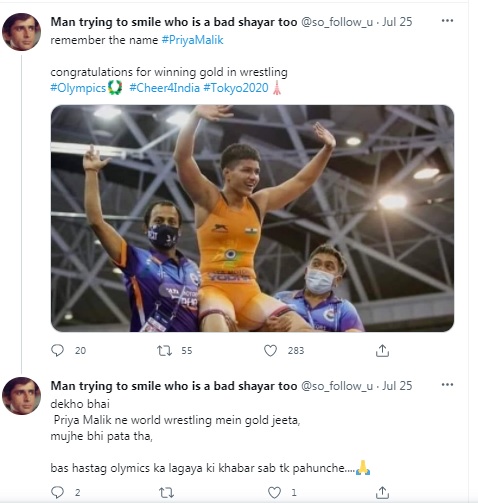 Claim: Haryana's Wrestler Priya Malik won gold in Tokyo Olympics, 2020
Conclusion: Priya Malik won gold not in the Tokyo Olympics but in World Cadet Wrestling Championship, held in Budapest.
Our rating: Misinterpretation —