Recently a post on industrialist Ratan Tata is making rounds with a quote attributed to him. It reads: "I don't believe in taking right decisions, I take decisions, then make them right – Great lines by Ratan Tata."
It further advised, "So we should learn from these lines and make a template for us while doing anything in a right spirit."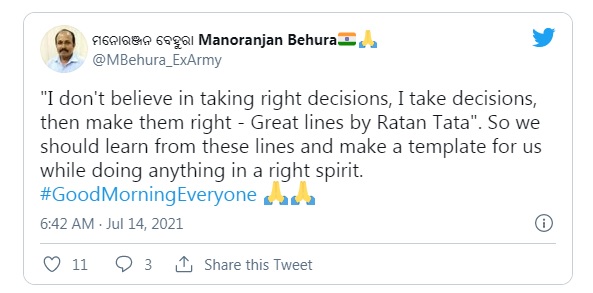 While the quote has been taken by many in a positive spirit, some have linked it to the prestigious Tata Nano car project that has been taken up by him at the turn of the century but now shut down as a  failure.
FACT CHECK
Digiteye India received the message on its WhatsApp for fact check and the team has taken it up for further check as several such quotes on Tata were attributed to him falsely in the past.
When checked on Google, the quote was attributed originally to Pakistan founder Mohammad Ali Jinnah and not Ratan Tata. Here are the links to show that the quote has been attributed to him repeatedly by many Twitter users:
I never take right or wrong decision.
I take decision first then prove them right or wrong.—–Ratan Tata

— Krushna Keshab Das (@KrushnaKDas) January 8, 2021
I don't take right decision. I take decision first and make it right.—–Ratan Tata

— Krushna Keshab Das (@KrushnaKDas) May 30, 2021
Denial by Ratan Tata
When we checked Youtube on Ratan Tata, we landed in an interview given by Ratan Tata in which he replied to a question pertaining to that quote. "Facebook or Twitter made that statement, it was never made by me," he said clearly denying the quote. He further said that he cannot defend himself when it comes to social media as shown in the above video. Watch the video above from 16:35 to 17:40 reading.
This is not the first time that Tata has been wrongly quoted as saying such remarks. In the past, he was quoted to have blacklisted JNU graduates from entering Tata Group and it turned out to be a fake claim. Digiteye India debunked it here.
In another instance, he was quoted to have said the Year 2020 should be remembered as a year to stay alive, not to worry about losses when India's lockdown resulted in the worst economic slowdown. This was debunked here.
Claim:  I don't believe in taking right decisions, I take decisions, then make them right – Great lines by Ratan Tata.
Conclusion: Ratan Tata did not say these lines, which were originally attributed to Pakistan's founder Mohammad Ali Jinnah.
Our rating: Misleading —