Amid clashes with outsiders entering and thrashing JNU students, a viral post on social media claimed that Tata Group, one of the biggest business conglomerates in India, has decided not to recruit JNU students for employment.
Jawaharlal Nehru University is known for its cream of talent ranging from top scientists, bureaucrats and even Union cabinet ministers in the current government. The Facebook claim that they will no longer be recruited was posted on January 6, 2020 by a Facebook user Akhil Kumar in a group called Helping India Foundation has gone viral.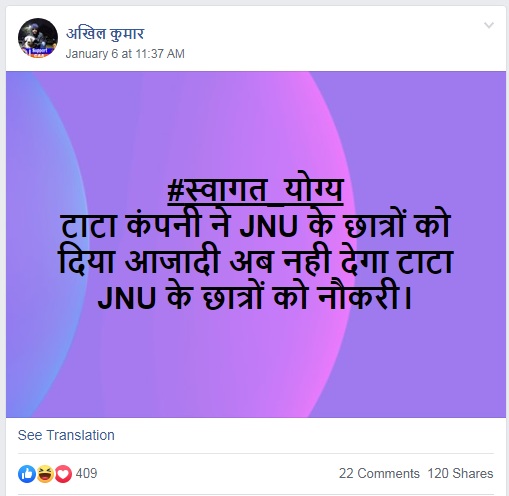 The message in Hindi reads: "Welcome decision. Tata Company has given azaadi to students of JNU. Now, Tata will no longer give jobs to students of JNU."
The Digiteye India team searched for the official statement from the Tata Group and found that no such statement has been made. In fact, a Google search revealed that this was an old claim which went viral in 2016 after the arrest of JNUSU leader Kanhaiya Kumar.
It claimed that Ratan Tata had announced about the company taking a decision to not recruit anyone from JNU after a few students were charged for sedition. In fact, the Tata Group had clarified then that there was no truth to this claim and responded that Mr Tata has not issued any such statement.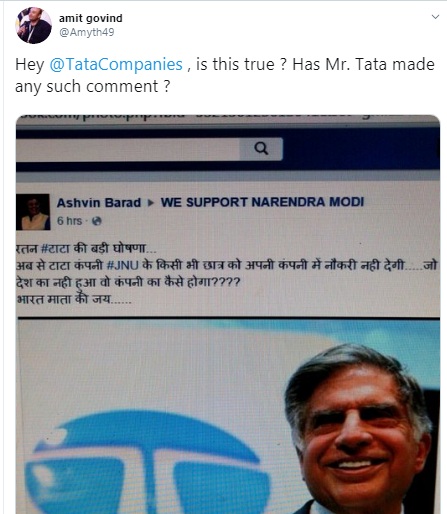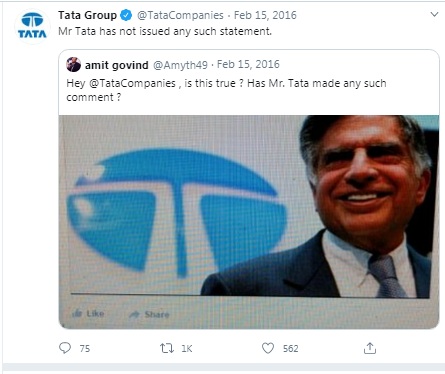 Mr Tata has not issued any such statement. https://t.co/tIVi6Vgukh

— Tata Group (@TataCompanies) February 15, 2016
Conclusion: Even this time, four years later, the Tata Group has not made any such statement and claim is not true.  The claim is totally false and our rating is ?????.