A photo of an army jawan (soldier) pulling the T-shirt of a protesting woman has gone viral recently on social media with a claim that it shows mistreatment of women. It was timed when anti-Citizenship Amendment Act (CAA) protests were being staged across the country. Here's the message visual on Facebook.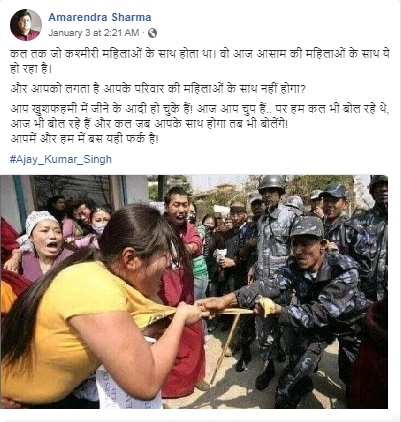 The photo was shared with a caption that said: "What was happening with women in Kashmir till yesterday is now happening with the women in Assam and you think nothing will happen with the women in your family? You are living in denial, today you are silent tomorrow we will be silent. But no, we have been vocal against this previously, even today and we will continue to speak in future if this sort of thing happens with you."
It was also shared on Twitter: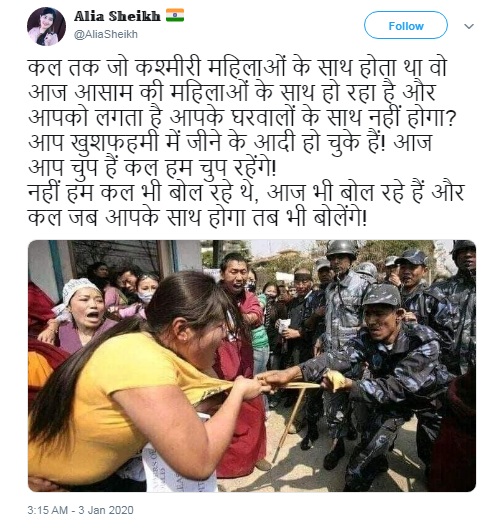 Protests in Jammu and Kashmir have been a common issue until the government revoked its special status in August 2019. Bringing this Kashmir issue, the caption tried to convey message about current Assam protests over the new citizenship act.
FACT CHECK
When Digiteye India team checked the veracity of the photo, Yandex has thrown the result showing an old Reuters image dated March 24, 2008. Here it is:
The Reuters photo caption reads: "A Tibetan protester struggles with police officers in front of the United Nations building in Kathmandu March 24, 2008. Nepali police broke up an anti-China rally by Tibetan exiles in Kathmandu on Monday, detaining 250 protesters in the latest in a series of demonstrations. Police holding plastic shields dragged the protesters into iron-meshed vans and trucks and drove them to detention centres, witnesses said. Witnesses said some exiles were also hurt in the scuffle. REUTERS/Deepa Shrestha (NEPAL)."
The image was wrongly attributed to Indian jawans in Assam though it was related to Nepal and Reuters had an extensive coverage of the protests. See Reuters report about the protests in Nepal here.
Conclusion: The claim that the Indian jawan was trying to drag a woman protester is, thus, totally false and our rating of it is ?????.