Digiteye India on its WhatsApp received the message for fact checking as the news has been making headlines in newspapers. Amid coronavirus outbreak, Indian social media has been abuzz with many claims and counter-claims and the latest one involved India's Tata Group chairman Ratan Tata.
The article was published by a regional daily based in Jamshedpur on its front page of May 3, 2020 edition. Published in Hindi, the headline states, "2020 जीवित रहने का साल है, लाभ हानि की चिंता ना करें" [Translation: 2020 is the year to stay alive, do not worry about profits or losses].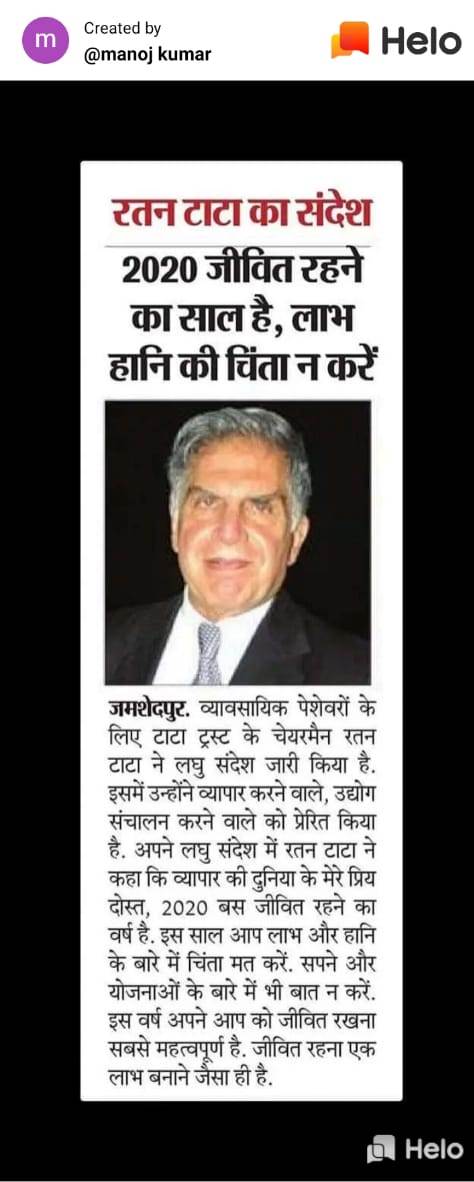 The article reads further how this small message was from Ratan Tata to all individuals involved in businesses of any scale would imply. It also states how Tata said that companies should not worry about their goals and plans; staying alive is equal to making the biggest profit in this scenario. This news has also been widely shared on Twitter and Facebook (above) with many people praising Ratan Tata for the message.
Fact Check:
Digiteye India took this up for fact checking and found several anomalies. The paragraph in news article does not mention when Ratan Tata had issued this message and on which platform. Going through Tata's social media — Twitter and Instagram — where he has accounts, it was found that Ratan Tata never said it and in fact, refuted the message.
In a three part Instagram story, Tata wrote "The following article has not been written or said by me." Then he attached the image of the article. Further he wrote "I will endeavour to call out fake news whenever I can, but would encourage you to always verify news sources. My picture alongside a quote does not guarantee me having said it, a problem that many people face."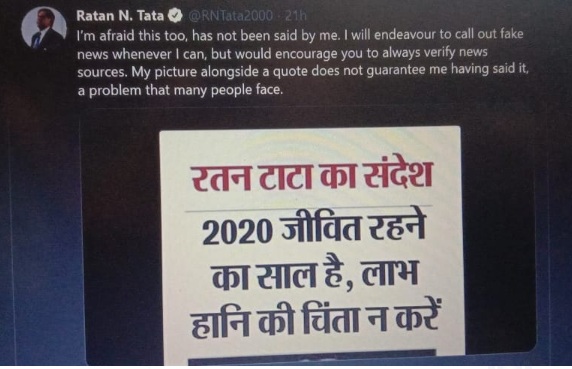 Tata has also tweeted the image of the article and tweeted using the same message. Tata Sons and Tata Trusts' contribution of Rs 1,500 crore is being utilized to manufacture personal protective equipments, respiratory equipment, testing kits, treatment facilities and training health workers required to combat covid-19.
This is not the first time Ratan Tata's name has been dragged into false promises and claims on social media. In December, amid JNU protests over fee hike, similar message attributed to Ratan Tata was shared stating that he would never recruit JNU students in Tata Group. It was debunked by Digiteye India here.
Conclusion: As Ratan Tata himself distanced from scuh claim, the news is totally false. Our rating is ?????- Totally False.