Wibs Bread, located in Mumbai and Navi Mumbai, produces about 3,000 slices of bread per hour and the company retains 46% of the market share in Greater Mumbai. But amid the coronavirus outbreak, Wibs Bread is going viral for a wrong reason on social media platforms. Digiteye India received the following message on WhatsApp for fact check:


Wibs is a family-run business and has four factories in Mumbai and Navi Mumbai. Its factories are located at Andheri, Prabhadevi and Dockyard. Many people in Greater Mumbai are apprehensive whether they've caught the virus while consuming the company's bakery products recently. Social media is abuzz with such fears.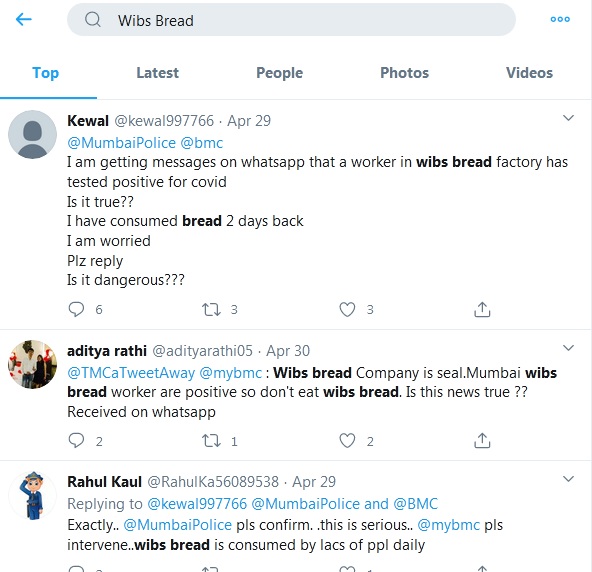 Fact Check
To uncover the truth, DigitEye got in touch with A.S.T. Enterprises, one of Wibs' wholesalers and distributors. Mani Nadar, the owner of the establishment based in West Mumbai stated on record that "this is incorrect news and that the supply is running normally."
He said that one of the four factories was sealed to sanitize as a cautionary measure since a worker showed coronavirus symptoms. However, upon testing, his reports came negative. Nadar said that he has had several interactions with the company on the same and assured that this news is misleading.
US FDA Stand
As shopping for groceries can be a daunting task during any outbreak, it should be noted that according to the US Food and Drug Administration (FDA), there is currently no evidence of human or animal food or food packaging being associated with the transmission of the coronavirus that causes COVID-19.
This particular coronavirus causes respiratory illness and is spread from person-to-person, unlike food-borne gastrointestinal or GI viruses, such as norovirus and hepatitis A that often make people ill through contaminated food.
To protect yourself when completing the grocery checklist, it is advised to wear a face mask, practice social distancing, and wash hands with warm water and soap for at least 20 seconds upon returning as advised by WHO.
Conclusion: The claim that Wibs Bread is contaminated due to a worker contracting coronavirus is false. Our rating of the claim is ?? Misinterpretation.