In the wake of the return of the epic Ramayan on Doordarshan after 33 years, Ramayan garnered millions of views and broke many world records by becoming the highest viewed entertainment program globally.
However, a recent video that has been circulating online showing two children, which the caption describes as "foreigners",  claims that the child artistes are singing the famous Luv and Kush (twins) track from Ramayan. The video is perfectly synced with the sound. It has received more than 267,518 views on YouTube.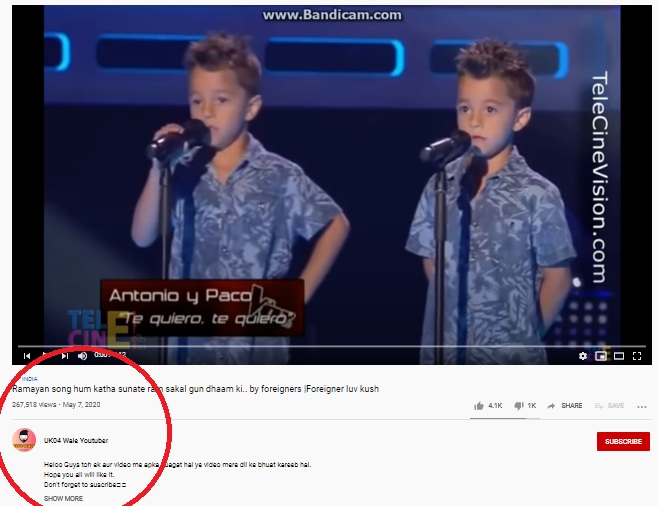 Uploaded on May 7, 2020 by UK04 Wale Youtuber on Youtube, the video has received 267,518 views,
Fact Check
Digiteye India team received the video for fact check. In Google Reverse Image search, the images of the boys came up, while a search on YouTube with their real names threw up the following video.
The real video was from the Spanish-based hit show La Voz, popularly known as The Voice, an American Spanish-language singing competition on television where contestants battle it out in front of celebrity judges. The kids in the video are twins Antonio and Paco Cortés singing their rendition of Nicky Jam and Enrique Iglesias track El Perdón.
It should be noted that none of the contestants on any of the aforementioned shows featured the Ramayan track that Luv Kush sang in the second to last episode of the series. You can watch their other videos here, and here.
Conclusion: Since the video track was changed to Luv and Kush song from Ramayan, the claim is entirely wrong. Our rating is Totally False.