Amid the coronavirus outbreak, there are many home remedies making rounds to prevent or cure the virus altogether. One such claim is being forwarded on WhatsApp, which stated, 'Observation of Efficacy of Ginger powder in Covid 19 positive patients.' Here's the long text defending the use of ginger powder in the name of Ayurvedic approach.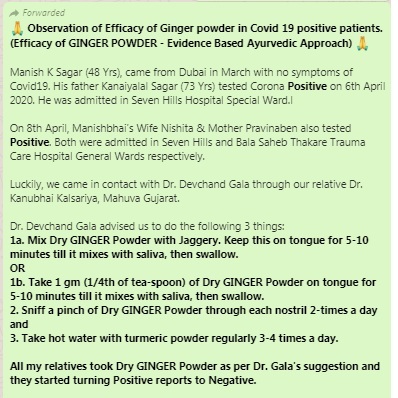 Digiteye India has already debunked similar social media posts on tea or hot water as possible home remedies to cure or prevent the coronavirus. The new message spreading on WhatsApp has been taken up by the team for fact checking since it claims that "Coronavirus was cured among positive patients."
FACT CHECK
Digiteye India team contacted Devchand Gala, an Ayurvedic doctor based out of Mumbai, to know more about the claim. He said he has been using the ginger powder application in his several years of practice. Gala noted that just like gloves and masks being used for outward protection, this ayurvedic approach is for internal protection from not just coronavirus but from any virus or bacteria.
He further stated that these techniques can keep the negative cases flat and people with no symptoms who are positive can also test negative practising these methods. When DigitEye requested Dr. Gala for contact details of the people mentioned in the message shared on WhatsApp forward, he said that they were "embarrassed" as another media agency also got in touch with them and that they do not wish to come in the public eye for the same.
However, experts differ from the 'ayurvedic' belief. University of Melbourne professor of virology Damian Purcell had earlier told ABC that such recommendations for cure are beset with risk always and there is no conclusive scientific validation. "It's a risky strategy to believe something works without proper clinical trials and as yet there are no trials focused on examining whether specific herbs would be effective," he said.
What WHO says?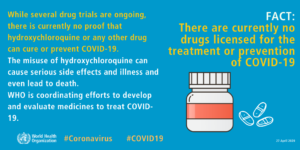 But as shown above, the World Health Organization (WHO) is working with various social media platforms to flag off any post that makes false claims regarding coronavirus cure. Its dedicated section called debunk myths has stated that the following measures are not specifically recommended as Covid-19 remedies as they are not effective and can be harmful too.
These measures include — taking vitamin C, smoking, drinking traditional herbal tea (in India usually with ginger), wearing multiple masks, taking self-medication such as antibiotics which do not work against viruses. In all viruses, it is the body immunity system that fights the virus and helps in recovery.
WHO Suggestion:
Here's what WHO says:"If you want to protect yourself from getting infected from the novel coronavirus, you should maintain basic hand and respiratory hygiene, and safe food practices and avoiding close contact, when possible, with anyone showing symptoms of respiratory illness such as coughing and sneezing." For further queries, check out WHO guidelines on safeguarding our lives from the virus.

Conclusion: As there is no conclusive evidence that ginger powder or any form of its consumption helps to cure coronavirus, the claim made in this message is Exaggeration — ?.