In February 2020, Gujarat hosted US President Donald Trump along with Indian Prime Minister Narendra Modi in Ahmedabad under 'Namaste Trump' tagline. The event was a response to 'Howdy Modi' held in Houston, Texas in September 2019 when Modi visited the US. In Ahmedabad, over 100,000 people gathered and the rally's main goal was for better relations between the two nations.
Now, under a hashtag #NamasteTrump a claim is going viral on Twitter, sparking debate on how Gujarat's high number of coronavirus cases can be attributed to the rally held on February 24 in Ahmedabad, when Trump visited the city.
The following message has been making rounds on Twitter and WhatsApp: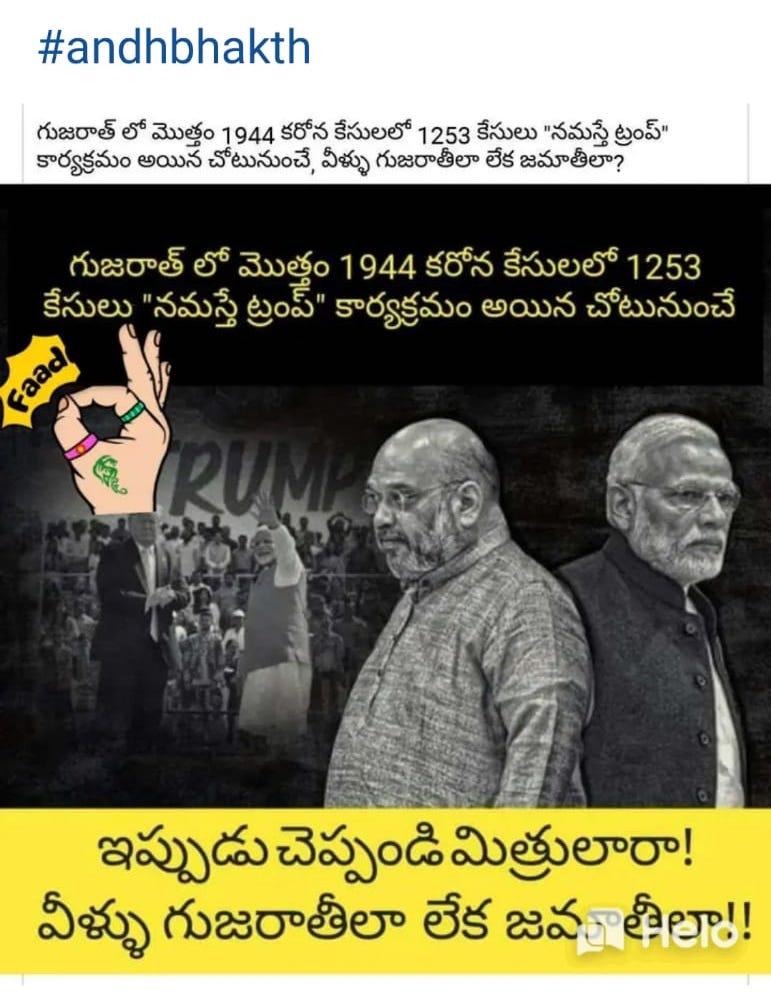 The message in Telugu translated into English reads:
"1253 out of the 1944 cases in Gujarat are from the place where Namaste Trump rally was held. Now tell me this my friends, are these Gujaratis or Jamaatis?"
Fact Check: 
To be precise, the day when Namaste Trump rally was held on February 24, coronavirus outbreak was not officially declared a pandemic by the World Health Organisation (WHO), and no restrictions were in place in India, including Ahmedabad in Gujarat. The cases were reported in Kerala and so is the United States, whose President Donald Trump made his historic visit to India.
The information on coronavirus outbreak was limited as of February 24 and no ban on gatherings was imposed. Moreover, the logic that the virus spread in Gujarat after February 24 rally does not conform the WHO precautions about the disease. As per the WHO and the Union Ministry of Health and Family Welfare, Government of India, the incubation period of the coronavirus is within 14 days and the cases in Gujarat appeared first, almost a month later, on March 20.
Conclusion: It is highly unlikely that people who attended the rally were the focal point from where the virus started spreading in Gujarat. Our rating is ???? – Mostly False.