With the increase in the number of people affected by the coronavirus, there has been a surge in the number of fake news being circulated. Amid the health crisis which the world is in, a financial and economic crisis is also underway involving business houses and prominent company heads.
In the domain foreign exchange, several stories have been making rounds and one among them is about China and the United States. Digiteye India on its WhatsApp received a query for fact check about a message that claimed that China has decided to cancel the dollar peg in all its stock exchange transactions.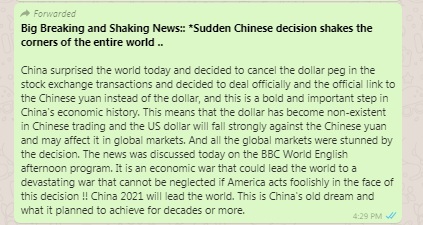 Similar messages have appeared on twitter and Facebook.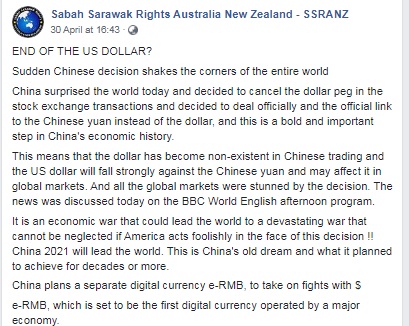 Fact Check:

China follows a modified version of the traditional fixed exchange rate. Under this, it pegs the Chinese Yuan to the US Dollar. As a result of this, the People's Bank of China (PBOC) sets the exchange rate every day. As long as the rate of Yuan is kept lower than the dollar or other currencies, China will remain a formidable exporter. Currently, the exchange rate is 7.06 Chinese Yuan to 1 US$ as of May 2, 2020.
According to a report carried out by South China Morning Post, it has been speculated that PBOC might re-peg the Yuan to the US Dollar to avert an incoming financial crisis and create stability in its economy. However, the Chinese central bank has not made any official statement in this regard. Similarly, the two independent stock exchanges — Shanghai Stock Exchange and Shenzhen Stock Exchange — have not said or published anything on these grounds.
Further search revealed that so far, the Yuan has been re-pegged only once during the global recession of 2008. There's no move to cancel or re-peg it from the PBOC.
Conclusion: The claim was based on a speculative report published on news websites. Our rating ?- Exaggeration.