India has been shipping the Covid-19 vaccines across the world, including major powers such as Canada and the United Kingdom as informed by External Affairs Minister Dr S. Jaishankar. A billboard in this connection appeared in Toronto, Canada recently though the company which had put it up removed later.
As thank you note from the heads of recipient states has often made it to social media, a new post has gone viral on WhatsApp and Twitter with a claim that this time Queen Elizabeth II thanked Prime Minister Narendra Modi for India's supply of Covid-19 vaccine doses. Here it is sent to Digiteye for fact check: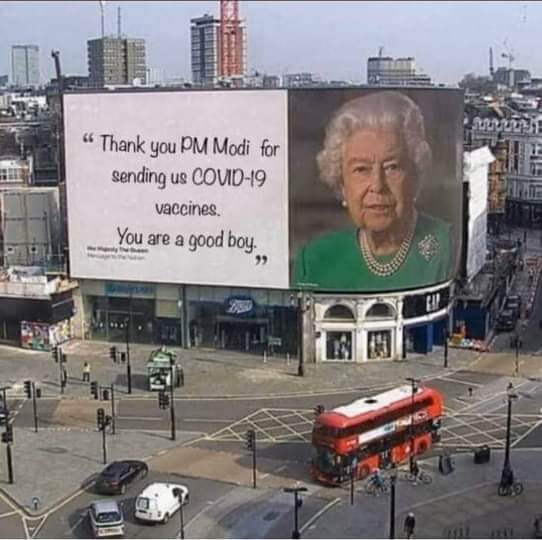 The billboard of Queen Elizabeth II purportedly thanking PM Narendra Modi for Covid-19 vaccines with a message that reads, "Thank you PM Modi for sending us COVID-19 vaccines. You are a good boy" was being shared on social media. The unusual thank-you note was prominently seen on the billboard put up at London's world-famous Piccadilly Circus.
In some messages, the caption read in Hindi as:"Queen Elizabeth II in London has set up a billboard thanking Modiji for helping England with the corona vaccine. Thank you Modiji for making us proud again. "
The social media posts have been shared on WhatsApp and Twitter.
FACT CHECK
To begin with, Covishield vaccine's research was done in Oxford University, produced by UK company Astrazeneca in India in partnership with the Serum Institute of India (SII), which is bound to supply part of its production to Astrazeneca.
It was already reported that UK had ordered 100 million doses of AstraZeneca's Covid-19 vaccine, of which 10 million doses will be supplied by the Serum Institute of India. On March 5, EAM Jaishankar tweeted to inform that the Made in India vaccines were delivered in London.
India-UK partnership in action. Made in India vaccines delivered in London today. #VaccineMaitri pic.twitter.com/hDqiysZRZF

— Dr. S. Jaishankar (@DrSJaishankar) March 5, 2021
Beyond that, there's no such statement from the Queen to the effect that she thanked PM Modi specifically. Moreover, "You are a good boy" is highly undiplomatic and never used by the Queen to address any foreign dignitaries or head of the states.
When Digiteye team took it up and checked a Reverse Image Search on Google showed similar picture which was originally put up as a billboard way back in April last year when Covid-19 was battering the nation. The message on the bill board was part of Queen's speech addressing the nation during the peak of Covid-19 pandemic.
The text on billboard, thus, read: "We will be with our friends again; we will be with our families again; we will meet again." It appeared on Piccadilly Lights in London from April 7 to April 19, as per BBC, which tweeted the image on April 8, 2020.
Queen's message of hope lights up Piccadilly Circushttps://t.co/l6l0y6HDWj pic.twitter.com/KlE3C1unLP

— BBC London (@BBCLondonNews) April 8, 2020
The billboard has been widely shared in April 2020 on several public media platforms and social media. The viral image is clearly morphed and the text of Queen Elizabeth II has been replaced with the message falsely claimed in the latest message.
Claim: Billboard in London claiming UK Queen thanked PM Modi.
Conclusion: The Queen has not made any public statement so far thanking PM Modi for providing vaccines to India. The image was morphed.
Our rating of the claim is Misrepresentation —

.