A viral image on social media is going viral with a quote attributed to US President Donald Trump. The image has a message below the President's photo and reads: "The doctors said they've never seen a body kill the Coronavirus like my body. They tested my DNA and it wasn't DNA, it was USA."
The context for the message is crucial as Trump has repeatedly told the people on Twitter that he has recovered from Covid-19 in a record time after he was diagnosed with the disease. See the image being shared on Twitter below: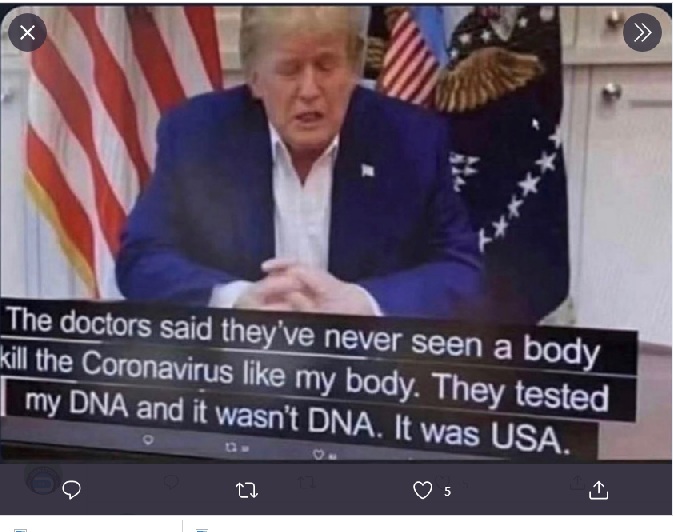 Originally, the image with the message was shared on Oct. 6, 2020 and was retweeted more than 100,000 times in less than two days. It was also shared on Facebook, WhatsApp and Instagram.
FACT CHECK
While it was taken by many as a joke, here's the truth — The President never said that. A quick look at his tweets, which he uses to convey his views, does not have this message. Secondly, the last part of the claim about his DNA is ridiculous as no one can claim even for fun sake.
Here's the video of Trump:
TO MY FAVORITE PEOPLE IN THE WORLD! pic.twitter.com/38DbQtUxEu

— Donald J. Trump (@realDonaldTrump) October 8, 2020
Further search for the original image led us to find subReddit site called Political Humor and the images are captured below: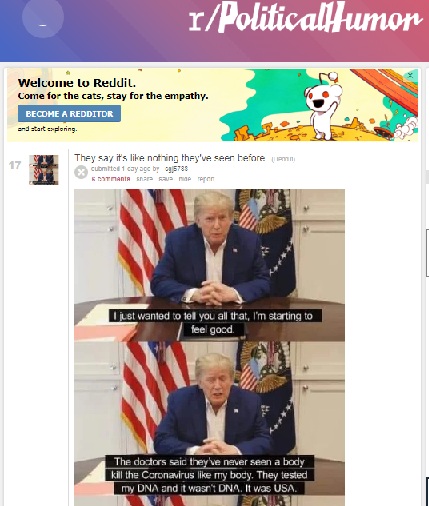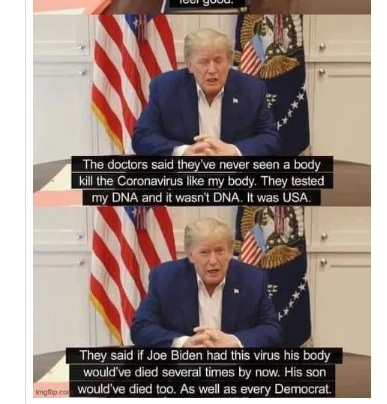 The third image caption reads:"They said if Joe Biden had this virus his body would've died several times by now."
Hence, Trump never made such an exaggerated statements though he described his cure from Covid-19 as a miracle. The quote attributed to him was never said by him but taken from a political humor that is circulating on social media.
CONCLUSION: Our rating of the claim is

— Misrepresentation.