Ever since COVID-19 took over our lives, there has been a barrage of information regarding the virus, its origin, the effect it has on people, among others. While some of the information is useful, most of them are pieces of misinformation and disinformation. Recently, several social media users shared a picture of a four-column pamphlet which allegedly debunks "the truth behind COVID-19". Digiteye India also received the images for fact-checking.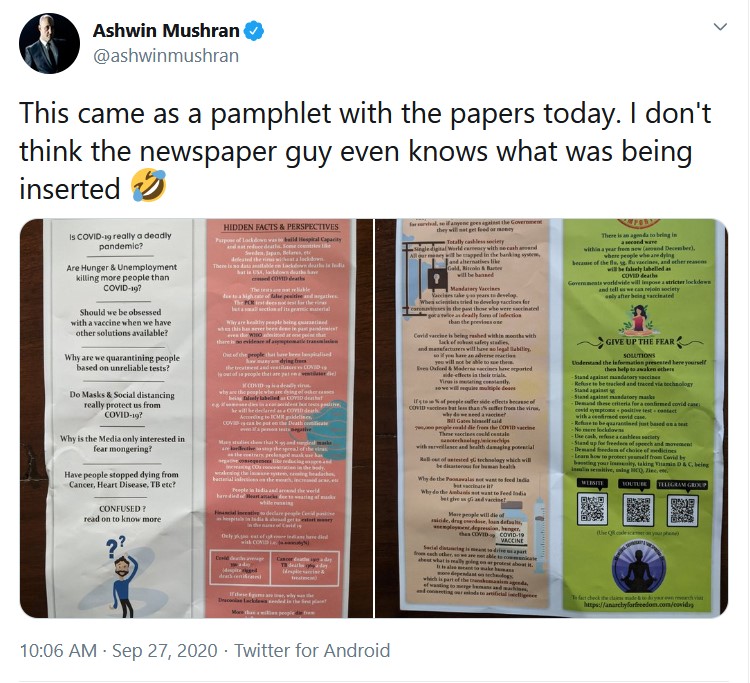 The pamphlet raises seven questions which are-
"Is COVID-19 really a deadly pandemic?

Are Hunger & Unemployment killing more people than COVID-19?

Should we be obsessed with a vaccine when we have other solutions available?

Why are we quarantining people based on unreliable tests?

Do Masks & Social distancing really protect us from COVID-19?

Why is the Media only interested in fear mongering?

Have people stopped dying from Cancer, Heart Disease, TB etc?"
The pamphlet is signed by a body known as "Anarchy for Freedom".
Fact Check:
We conducted a background search on Anarchy for Freedom and found their website. According to their site, they are based in Mumbai and it is "INDIA'S HOME FOR CONSPIRACY RESEARCH & FREE THINKING". Apart from COVID, they cover other issues too — Politics, False Flag Terror, Science, Big Brother Surveillance State, World Government & Agenda 21, Religion & New Age Movement, Extra Terrestrial Life, Economics & Finance, Education & Mass Media.
Coming to the case at hand, the first column highlights the "hidden facts & perspectives" behind the COVID-19 pandemic. The first part states that lockdown was implemented "to build hospital capacity". It highlights the example of countries like "Sweden, Japan, Belarus" which defeated the virus without any lockdown. It states how there is "no data available on lockdown deaths in India". While we do not know what lockdown deaths imply, but up till May 31 (before Unlock 1) was implemented, the death toll stood at a staggering 5,405.
The next part talks about how PCR tests are unreliable because they do not "test for the virus but a small section of its genetic material". It states how the tests are unreliable because of "false positives and negatives". The RT-PCR test is the most commonly used. Samples from an individuals nose or throat are taken and reverse transcription is done to create copies using primers. Researchers select the genome and binding takes place. Post which a fluorescent signal marks the presence of the virus.
While technically it does check a small section of its genetic material, it is sufficient enough to gauge the presence of the virus. In a paper by Rajesh Bhatia and Priya Abraham, titled 'The Enigmatic COVID-19 Pandemic', the writers state how RT-PCR continues to be the "gold standard" and is "valuable at the early stages of infection, when the individual may not be symptomatic." The paper also addresses its limitation and states how "false negativity facilitates continuous transmission of the virus in the community". They propose the development "of an ideal gold standard diagnostic test with sensitivity and specificity exceeding 95 per cent".
While the WHO has stated "rare evidences" of transmission of the virus from asymptomatic patients, it cannot be neglected. In an Indian Express report, Dr Ashish Jha, the director of Harvard's Global Health Institute, said: "asymptomatic spread is what makes controlling this disease so incredibly hard". The identification of it is near to impossible without testing.
Ventilators are often given at extreme stages when nothing can save a person from dying out of COVID. Hence people who are on ventilators show a high death rate. The pamphlet cites ICMR guidelines which state that any death can be "falsely labelled" as a COVID death. A report by The Hindu states ICMR guidelines which says "deaths with inconclusive test results, but in which coronavirus symptoms are present will be recorded as probable COVID-19 fatalities".
Also, it would be recorded as an "underlying cause of death" when leading to pneumonia, cardiac injury and clotting in the bloodstream, among others. This move is to assess public health impact and prepare necessary interventions as and when required. 
Money Extortion
There have been rumours of money extortion in the name of COVID in India and abroad but there is no conclusive proof of it. In the United States, "the CARES Act already provides money to hospitals for each patient whose cause of death is COVID-19". There is no new reform for money extortion.
The next column talks about the "real agenda behind lockdown". While it has rightly pointed out how vaccines take almost 5-10 years to develop. The Phase 1 trial includes testing on a small number of individuals, 20-50 roughly, to establish safety. Phase 2 establishes immunogenicity while Phase 3 consists of Randomized Controlled Clinical Trials. The final phase includes real-life evaluation and post-marketing surveillance. The case with a SARS-CoV2 vaccine is different. In a podcast, Dr Sanjay Mehendale, a noted epidemiologist, states how the phases of a clinical trial can be clubbed in a global emergency.
The final column talks about "solutions". These solutions include standing against 5G, refusing to be quarantined just based on a test, standing against mandatory masks, etc. Regarding surveillance via vaccines, India itself has rough plans to check surveillance of COVID vaccine using IT trackers as stated by Bhatia and Abraham in their paper.
The pamphlet talks about how 5G will be a cause of death soon. This has been debunked by Digiteye earlier. Similarly, it states how masks are inefficient. In a myth recently debunked by Digiteye we stated how medical masks should be worn by frontline workers while the general public should wear reusable masks. It has been constantly advised not to wear masks while running or during any physical exercise because the body needs more oxygen then which the mask curbs.
Maintaining a six feet distance while physical exercise and limitations on touching of surfaces are advised. Ever since the beginning of the pandemic, conspiracy theory groups and anti-vaxxers have targeted Bill Gates. We debunked the false claim of depopulation by Gates earlier.
Conclusion:
The final solution remains immunity-boosting as a means to protect oneself from COVID. That is true but no self-medication should be resorted either. Our rating

— Mostly False.