A poster that is appearing on social media platforms allegedly by the Pradhan Mantri Bharatiya Janaushadhi Pariyojana (PMBJP) has laid home quarantine schedule for people.  It has laid down meticulously the timings, dose and details of what one should do while in home isolation. The itinerary suggests doses of Vitamin B, C, E along with hot lemon water, kadha, tea, steam, and hot milk.
For physical movement, it suggests pranayam, light yoga and aerobics. Waking up at 6 AM is also suggested. Towards the end, the poster states how this crucial information should be shared to reach the maximum population. It has also been shared by users on social media.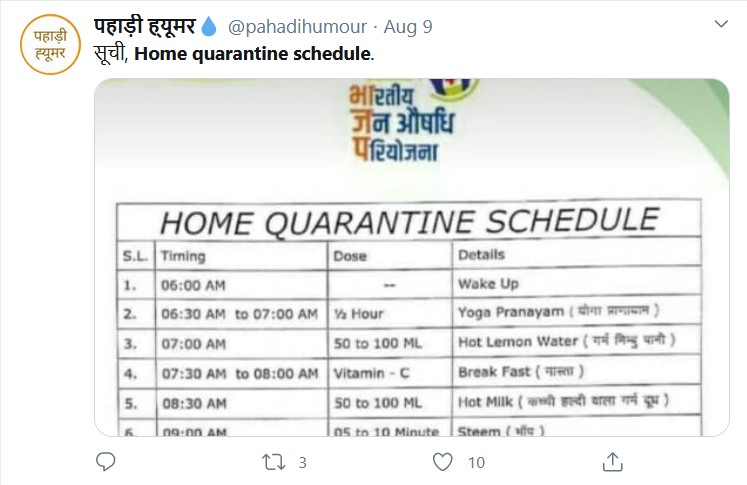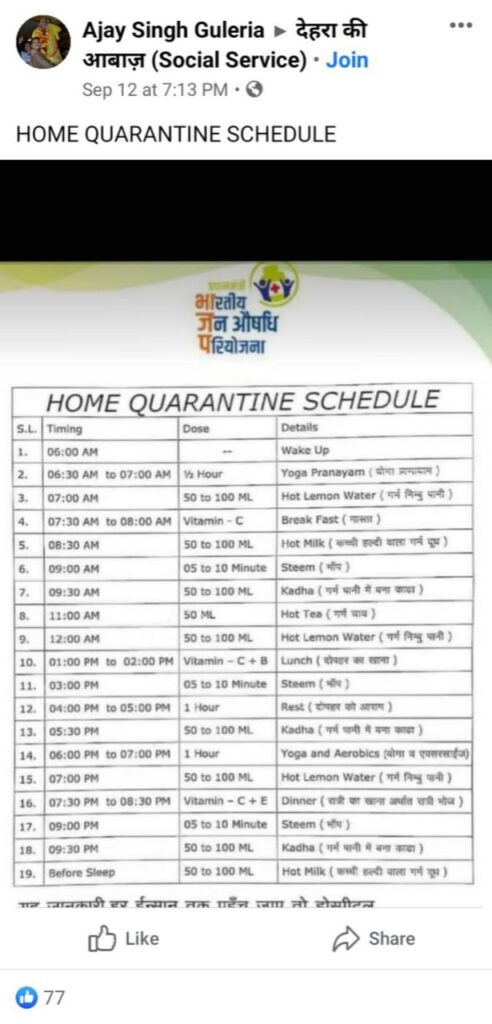 Fact Check:
While the poster might look legal and authentic because it has the logo of PMBJP, but it should be noted that PMBJP does not indulge in these health issues. The PMBJP is a campaign started by the Department of Pharmaceuticals to make quality medicines accessible to the masses.
According to PMBJP's website, their objective is to make "quality medicines affordable for all, particularly the poor and disadvantaged, through exclusive outlets — Pradhan Mantri Bharatiya Janaushadhi Kendras — so as to reduce out of pocket expenses in healthcare". Digiteye India checked their website and found no such press release or advisory.
According to the revised guidelines for home Isolation of very mild/pre-symptomatic COVID-19 cases issued on May 10, 2020, by the Ministry of Health & Family Welfare, no such specific details regarding food and other activities have been stated.
Another guideline by the MoHFW states the adherence and practice of public health measures at all times.
WHO Europe has laid down guidance tips to follow during self-quarantine which include: consumption of home-cooked meals using only fresh products, limiting salt, sugar and fat intake, consumption of fibrous food, staying hydrated and limiting alcohol consumption. In case one does order food from outside, it should "particularly from reliable businesses following strict food hygiene requirements".
Conclusion:
While the steps mentioned are indeed good practices, they have not been issued by the Government. Testing should be done if symptoms arise. Self-medication should not be practised. Any medicine should only be consumed after doctor's consultation. Our rating

– Totally False.