Social media users are sharing a picture of a temple, allegedly the Konark Temple in Odisha, in which one can see the rising sun in the door archway. The architecture of the temple is such that it looks as the sun is rising from inside the temple. In the picture which is shared alongside, there is a huge crowd to witness this celebrated event.
Users are sharing how this "happens once in 200 years". Digiteye India also received the image for fact-checking on its WhatsApp number. It read:"This is the sunrise from inside the Konark Temple. They say this event happens once in 200 tears."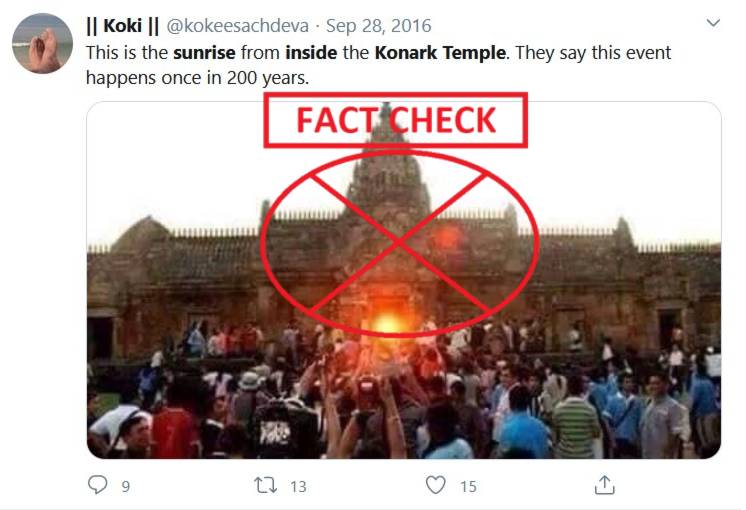 Fact Check:
When we checked social media to see how old this image is, we found out that it has been in circulation since 2015. We also found videos of the same on YouTube.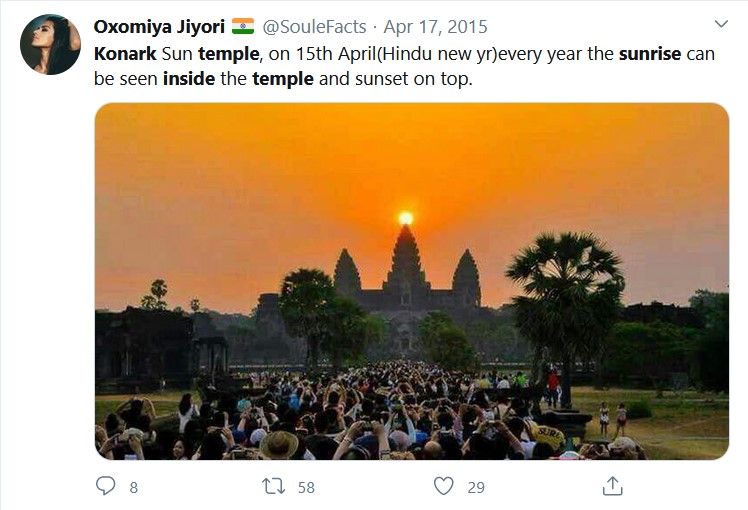 On closer look, one can see that the architecture of the temple in the picture is not similar to the Konark Temple in Odisha. While the main standing monolith looks similar, the Konark Temple does not have adjoining walls and temple structures attached to the main structure.
A reverse image search on Google showed that it is the Prasat Hin Phanom Rung Temple in Thailand. Also known as Phanom Rung, this Hindu Khmer Empire temple is set on the rims of an extinct volcano in the Buriram province of Isan, Thailand. Built between the 10th-13th centuries, it is dedicated to the Hindu deity, Shiva.
This temple is also famous for its solar spectacles in which the sun shines through all the arches. Buriram Times states "four times during the year the sun shines through all fifteen stone doorways of the famous, historical Temple. This happens during sunrise from 3 to 5 April and 8 to 10 September and sunset from 5 to 7 March and 5 to 7 October (some years are one day earlier)." According to popular belief, the sun passes over the Shivalingam and brings good luck to the onlookers.
Bangkok Post reports how "these solar events occur annually approximately 14 days either side of the equinoxes in March and September".
Conclusion:
The pictures are not from Odisha but of Thailand. Our rating

– Totally False.