A video showing a billboard flying off its frame and falling on motorcyclists on the road when it was raining heavily has shaken viewers, especially with the monsoon season around and such possibilities are not rare in Indian cities. The 14-second video has gone viral on social media with the claim that the incident took place at Mehdipatnam flyover in Hyderabad (India).
The video has captured how heavy vehicles and even an auto plying on a road during a heavy rain just miss a huge hoarding that collapsed on the road, but two motorcyclists finally take the hit. See the video here:
The video was shared widely on WhatsApp with the caption "Just Now at mehdipatnam flyover, Hyderabad."
Fact Check
The Digiteye India team took it up for fact checking and a general search on Google with strings such as 'billboard' and 'fall' and 'road' generated search results about the incident that actually took place in Karachi, Pakistani a few days ago but certainly not in India. It was reported in "The Express Tribune" and a video clip of this was covered by local reports and Samaa TV.
As per the reports, the incident happened near Metropole Hotel of Karachi on August 6, 2020 and the two motorcyclists suffered injuries. The incident forced local authorities to crack the whip on display of such huge billbaords without safety norms, said the article.
Soon after the video with a wrong claim started making rounds in Hyderabad, the Secretary of Urban Development in Hyderabad, Telangana, Arvind Kumar responded on Twitter to clarify that it is not from Mehdipatnam, Hyderabad but from Karachi, Pakistan.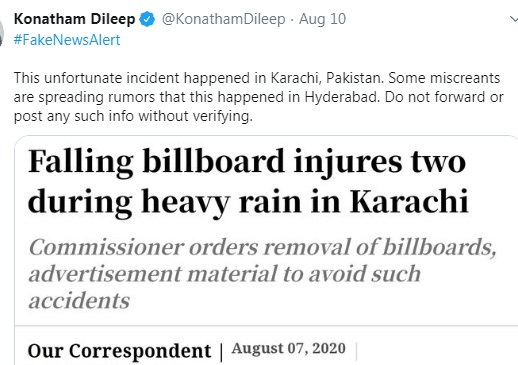 Konatham Dileep, Director, Digital Media, Govt of Telangana too tweeted further clarifying that "This unfortunate incident happened in Karachi, Pakistan. Some miscreants are spreading rumors that this happened in Hyderabad. Do not forward or post any such info without verifying."
Conclusion: Though such incidents are not unknown in Indian cities, this particular video cannot be attributed to Hyderabad. Therefore, the claim that a billboard falling on two motorcyclists on a road in Mehdipatnam in Hyderabad is Misrepresentation

.