A viral video of a man sleeping with cheetahs is going viral on social media. The 0:59 minute long video is shared widely on all social media platforms. The claim along with the video states that it is from Sirohi, Rajasthan.
In one of the claims, the caption says, "हर हर महादेवःःःःः।। यह विडियो पिपलेश्वर महादेव मंदिर मोछाल ( सिरोही ) का है हर रोज ये चीता परिवार मन्दिर के सेवक को अपना समझ कर उनके साथ सो जाते हैं।" [Translation: The video is from Pipleshwar Mahadev Temple, Mochal (Sirohi). Every night the cheetah family thinks of the temple boy as their own and sleeps along with him]
The video has been viewed 100.3k times.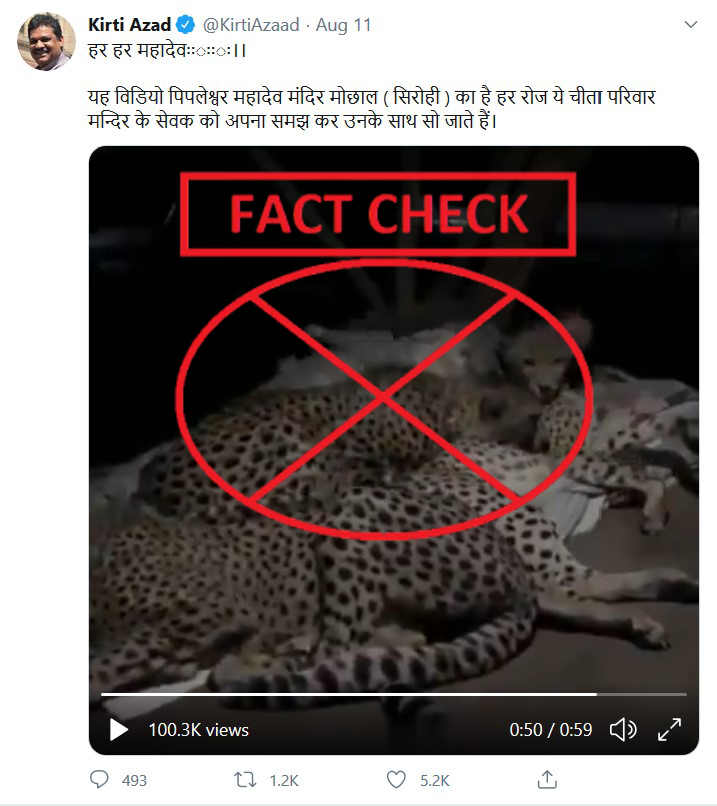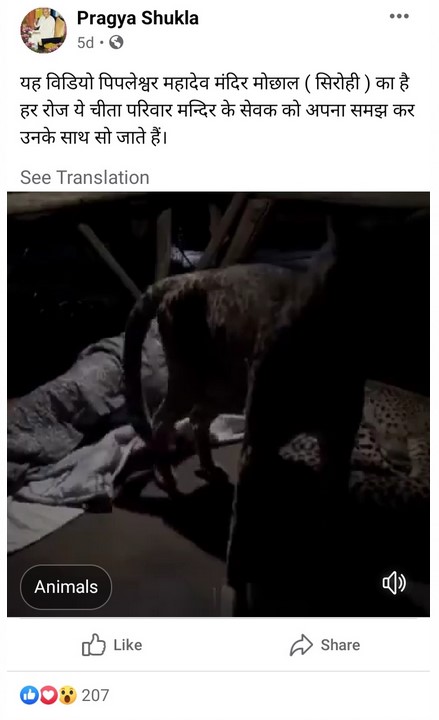 Fact Check:
The video is not from India because cheetahs have been declared extinct. "The Asiatic Cheetah was declared extinct in India in 1952. According to reports, the last Indian cheetah died around 1948", states a report by The Hindu. However in January 2020, in a response to the National Tiger Conservation Authority, the Supreme Court ordered African cheetahs to be introduced on an "experimental" basis but it has not been implemented yet.
Coming to the video, Digiteye India broke the video down into keyframes and conducted a reverse image search for the same. It landed us on to a 6:45 minutes long video posted by Dolph C. Volker on YouTube. He posted the video on January 2019 that has fetched more than 14 million views.
The video titled "Do Cheetahs Prefer Cold Hard Concrete Or Warm Blankets Pillow & A Friend? | Three BIG CAT Night" shows the man sleeping with the cheetahs in a cheetah breeding centre in South Africa. He was granted special permission to conduct this experiment because he "had watched them grow up and built up a relationship with them during past volunteering."
Volker is an animal advocate with a degree in zoology. He is also known as 'cheetah whisperer'. The same video was also posted on his Twitter (where he goes by the name @/Cheetah_Petter) and Facebook (The Cheetah Whisperer) accounts in 2019. On Facebook, he explains the premise of the experiment that he undertook the experiment to understand the conservation of energy of wild animals by sharing body heat.
This video was also shared earlier where people had credited Volker.
Conclusion: The claim that the cheetah family "thinks of the temple boy as their own and sleeps along with him" is false. Our rating is

– Misrepresentation.