When it comes to celebrities, especially the Telugu film industry actors and actresses, many Telugu websites are in the forefront to slap allegations and promptly removing the news when questioned. Here's an actor who took upon the fight against those spreading gossip without substantial evidence or checking facts before publication of rumours.
As coronavirus is spreading in Telugu states of Andhra Pradesh and Telangana, many Telugu film industry celebrities have announced donations to various national and regional funds. Actor Vijay Devarakonda went a step ahead and sought to raise funds through his voluntary organisation to help middle class families affected by the coronavirus lockdown. Called Vijay Devarakonda Middle Class Fund, he sought to raise Rs. 20 lakh but managed to raise up to Rs.70 lakhs and noticeably, the organisation has been sharing the details on its website on daily basis.
However, a gossip portal in its write ups started questioned the motive and basis of distribution of funds. Here are the screen grabs of two stories published by the website, Great Andhra, which have been removed now. Digiteye India team was able to get the screen grabs here: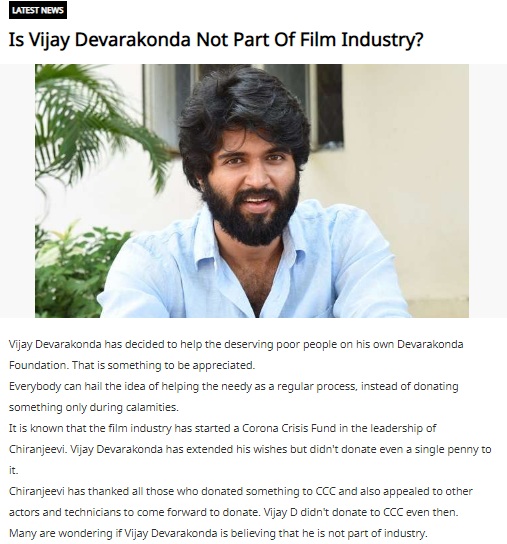 The first report said the actor is not joining the film industry initiative Corona Crisis Charity (CCC) fund started by Telugu film celebrity Chiranjeevi under his Chiranjeevi Charitable Trust. It wrote in an article on Saturday, May 2, 2020 titled, "Is Vijay Devarakonda Not Part Of Film Industry?" and questioned his reluctance to donate to the CCC but start own funding initiative. "Vijay Devarakonda has extended his wishes but didn't donate even a single penny to it," alleged the news article as seen above in the third para. Instead, he started his own Devarakonda Foundation, said the article in the first para.
The actor in a video on May 4, 2020 disputed the allegation and stated that he had donated Rs. 5 lakh to the CCC, which he described as the industry's own initiative under Chiranjeevi. The foundation has stated this on its website clearly and here's a screenshot of the same: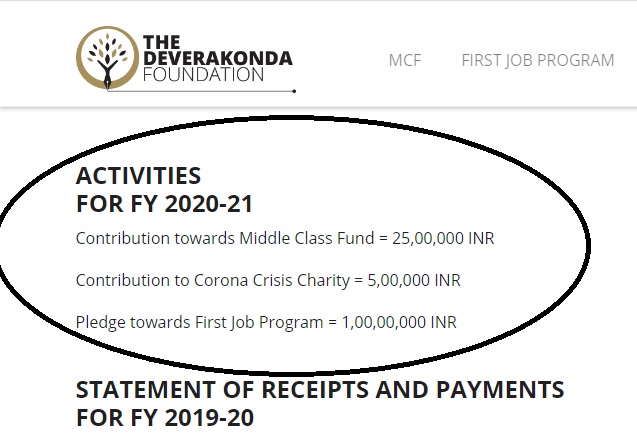 In another article on Vijay Devarakonda's 'Middle Class Fund', the same gossip portal raised objections on the distribution mechanism and motive behind running it. Here's the full text of the article which has been removed now: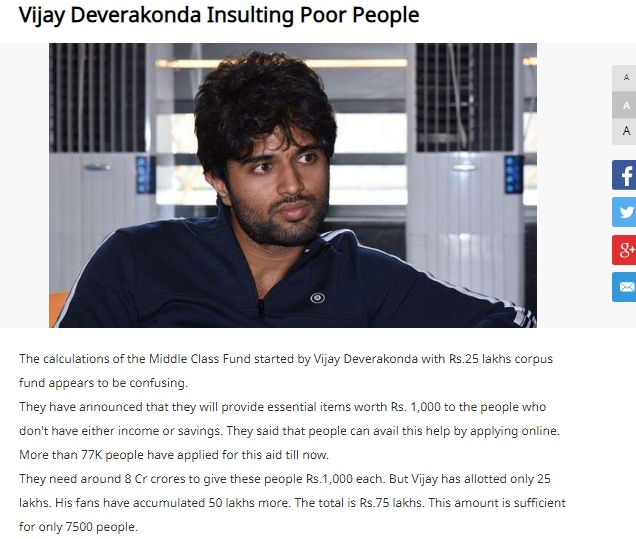 Here's the full text of the article:
"The calculations of the Middle Class Fund started by Vijay Deverakonda with Rs.25 lakhs corpus fund appears to be confusing.

They have announced that they will provide essential items worth Rs. 1,000 to the people who don't have either income or savings. They said that people can avail this help by applying online. More than 77K people have applied for this aid till now.

They need around 8 Cr crores to give these people Rs.1,000 each. But Vijay has allotted only 25 lakhs. His fans have accumulated 50 lakhs more. The total is Rs.75 lakhs. This amount is sufficient for only 7500 people.
But they are even not doing it. They have helped only 2200 people till now. That means they have spent Rs.22 lakhs. The volunteers of the foundation have contacted just 6000 people among the 77,000 people applied.
If we look at these figures, it appears that they must have planned the helping exercise to continue for a month. They must have planned to continue the mission by helping some people daily until the corona crisis ends. But the poor guys who applied for the aid must be waiting for the phone call.

But suddenly Vijay announced to stop sending applications. He said that he wanted to help only 2000 people initially. If that is the case, why should he start a website and make hungama? Why should he collect money from his fans in the name of donations?

If it is the case of 2000 people he might have done it voluntarily in one or two areas within the city? Why should he give two states build up?

Finally Vijay Devarakonda disappointed 75000 poor people by showing them Rs 1000/- carrot. Just imagine the plight of the people those apply for Rs 1000/-. They don't do it unless they are too poor to imagine.

If we think that many fake applications may come up, there is a big team working for the website those are spending time on scrutinizing the genuinity of application. They are transferring Rs 1000/- only after multiple level checking."
The major allegations made in the news article are:
There are 77,000 applications received but only 2,200 people received aid.
The actor wanted to help only 2000 people initially. If that is the case, why should he start a website and make hungama (show off)? Why should he collect money from his fans in the name of donations?
If it is the case of 2,000 people he might have done it voluntarily in one or two areas within the city? Why should he give two states build up?
Here's what the actor said in his reply on a Youtube video released on Tuesday, May 4, 2020, refuting the allegations in Telugu and English:
When the number of applications received touched 77,000, the Foundation stopped accepting the requests and started checking the those who are in need and the process is still on, said the actor. It was during this time the gossip portal wrote the news articles without cross-checking the facts with the actor or his team involved in distribution of relief fund.
As of Monday, April 5 evening, the figures of help extended by the Foundation are vividly reflecting on the website as below:

Secondly, the actor explained the reason behind helping only "2,200 people" as alleged in the article. He reminded that they are 2,200 families and not people as written in the news story. He clarified that with his initial funding of Rs.20 lakh, he wanted to help 2,000 people. The actor further clarified that he would any day help more people, if he had funds.
The actor donated in the past too going by a general search on Google. When Digiteye India team checked, it found that the actor had donated in 2018 too, soon after massive floods wreaked havoc in Kerala. He had donated Rs. 5 lakh to Kerala CM Relief Fund and joined other celebrities to appeal for more donations. See his tweet with more details below:
And now I hear Kerala is reeling under floods and situation is quite bad!

Kerala was my first holiday destination and has given me a lot of love for my work, I've met a lot of people from there who are some of the nicest people I know, I don't know how to reach out personally pic.twitter.com/pA2W3eRx3t

— Vijay Deverakonda (@TheDeverakonda) August 12, 2018
Conclusion: The allegations made in the gossip news website are false. Our rating for the claim is ?? Misinterpretation.