The issue of Ram mandir has again taken centre-stage in Indian politics and fake news attributed to secular parties are making rounds.
One such quote over the latest controversy on Ram Mandir was attributed by a right wing group to Congress leader Kapil Sibal, as if he was saying, "I will not allow building Ram Mandir in my life span." The link has been removed now but the captured image is as below: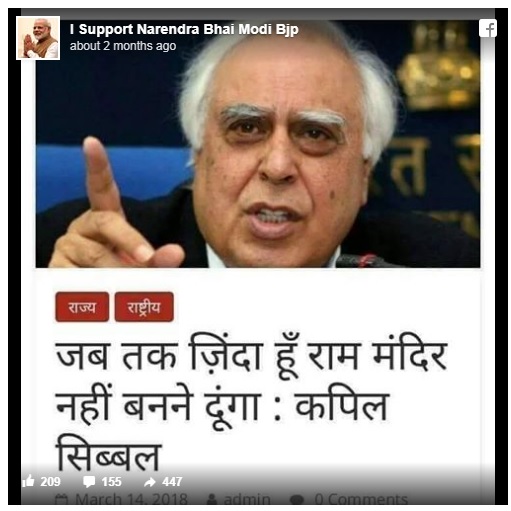 It was being circulated via a Delhi-based BJP supporters' Facebook account "Bjpalindia" that vows  support to Narendra Modi. The Facebook account has 1,227,663 people liking it and 1,438,225 people following it.
The picture with its wrong attribution to Kapil Sibal resurfaced now on their page amid uproar that Ram Mandir will become a significant plank during the elections.But this is a fake quote attributed to Kapil Sibal. What he actually said was different as seen below:
Did Kapil Sibal say anything about this? Kapil Sibal has made his stand clear in many media interviews stating that the temple can't be built on PM Narendra Modi's orders. Here's a video of one that was aired on Dec. 6, 2017. Ever since he has become the target of several false allegations repeatedly on social media.
He had argued in 2017 that the Babri-Ram Janmabhoomi case may have serious ramifications if decided before the 2019 elections and hence sought the Supreme Court bench to hear the matter after the general elections. However, neither the Sunni Waqf Board nor any political party sided with his argument.
Conclusion: By misrepresenting the above statement as Kapil Sibal's pledge not to allow construction of Ram Mandir is false and our rating for this news is ??? Misrepresentation.