After the recent controversy over the unveiling of the world's tallest statue for Sardar Vallabhai Patel at Rs.3,000 crore on the occasion of his birth anniversary that also coincided with the death anniversary of former Prime Minister Indira Gandhi.
While tributes to Indira Gandhi were all over the media, here's one message that popped up from the usual suspects whom Digiteye India has been tracking on Facebook. See the picture below and the text in Hindi is a quote attributed to her saying,"In India, Muslims will have the first right to everything."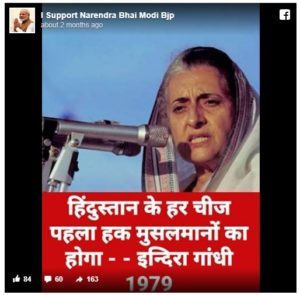 (The image has been currently removed from Facebook as seen the message below)
Delhi-based BJP supporters' Facebook account "Bjpalindia" that vows support to Narendra Modi has gone one step ahead to declare what it claims was spoken by Indira Gandhi way back in 1971. The Facebook account has 1,227,663 people liking it and 1,438,225 people following it.
There is no record of such statement given by Indira Gandhi in history, but certainly this fake attribution would lead to many doubts in the minds of people about the religious rights in India.
Though it was known that Indira Gandhi had a stable vote bank among the Muslims, never did she amend the Constitution or effect any changes to provide this so-called first right to everything in India for minorities, as claimed.
In fact, the Indian Constitution under Articles 14 to 19 ensures fundamental rights and the right to Equality to every Indian citizen apart from five other rights including right to freedom, right against exploitation, right to freedom of religion, cultural and educational rights, right to constitutional remedies.
Conclusion: A false claim attributing former Prime Minister Indira Gandhi amounts to misinformation aimed at spreading fake news to ignite communal hatred in the country. Our rating of this news is ??? Misrepresentation of facts.