Congress leader Digvijaya Singh was under social media wrath when he tweeted a picture of old or discarded ambulances from Andhra Pradesh, to be precise, in Vijayawada and criticised Uttar Pradesh Chief Minister Yogi Adityanath saying that they were lying unused in UP due to his policies.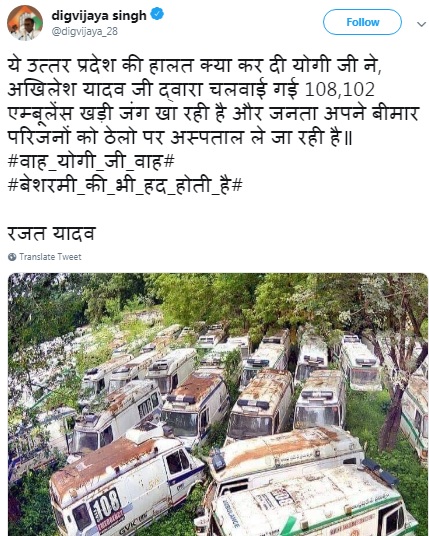 A Google Reverse Image search shows that the picture was actually published in Telugu newspaper "Sakshi" and the location was in Vijayawada in Andhra Pradesh. And they were lying there unused because the AP government has given the contract from GVK-EMRI, an NGO to BVG-UK Ambulance services, thus making almost 108 ambulances lying there unused.
Using the photo, Digvijay tweeted saying,"Yogi ji, what have you done to Uttar Pradesh? The 102, 108 ambulances started by Akhilesh Yadav's government are rusting while the sick are being carried on carts."
यूपो में जो 108 नम्बर एम्बुलेंस को मरीज़ों तक पहुचना चाहिए वो जंग खा रही हैं, गरीबो की हर योजना को जंग लगा रही ये सरकार.. क्या सिर्फ इस लिए गरीबो का हक़ छीना जा रहा है!! क्योंकि ये योजना @yadavakhilesh की @samajwadiparty ने दी है.#samajwadsehoga @juhiesingh || @AbbasAliRushdi pic.twitter.com/WI5SFrgCGT

— Divashankar Ahir (@DivashankarAhir) October 2, 2018
The tweet has apparently originated from someone named Rajat Yadav, which was duly used by Congress leader Digvijay Singh. It is also clear that the writing on ambulances was in Telugu and many social media users questioned whether Telugu is being used in UP. "Is Telugu spoken in Uttar Pradesh, Diggy?"
Conclusion: Congress leader Digvijay Singh has used a wrong photo in his tweets to claim that UP government under Chief Minister Yogi Adityanath was not providing proper medical facilities to people. Our rating of this news is ??? Misrepresentation of facts.