Indian capital has been choking in thick smog and bursting firecrackers invites utmost condemnation especially in November and December. Amid such pollution in the capital, a picture of Delhi BJP chief Manoj Tiwari bursting firecrackers is going viral on social media.
The tweet by one Berjash Daas @Berjashdaas9 was posted on Nov. 4, 2019. It has also been posted on Facebook and shared more than 650 times. See the post: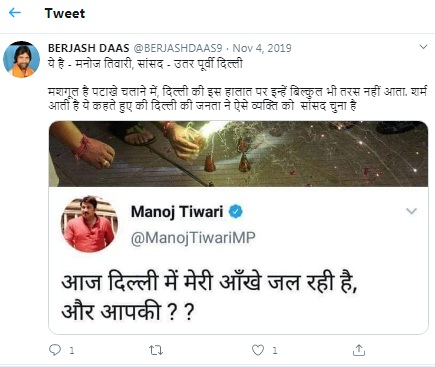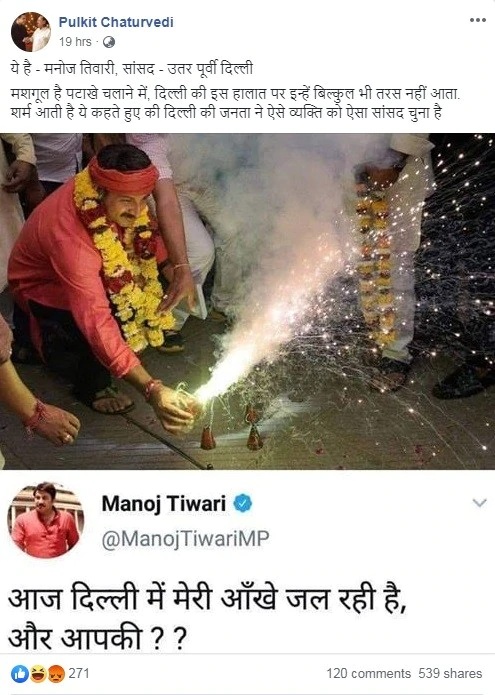 The claim with the picture says that despite the current pollution in Delhi, Tiwari is happily bursting firecrackers. A tweet by the BJP leader in Hindi says "My eyes are burning in Delhi today. And yours?"
November first week has seen thick smog this year converting the Capital into a gas chamber, with the citizens finding it difficult to breathe. When situation is worse, this picture has been circulated on social media.
Fact Check
Digiteye India has done a Google Reverse image search and found that the picture is five years old. It was taken during Chhath Puja in Delhi in 2014. It was used in a news report by The Pioneer in an article that was published on October 29, 2014. On Chhath Puja being declared a public holiday, this picture was used. See below: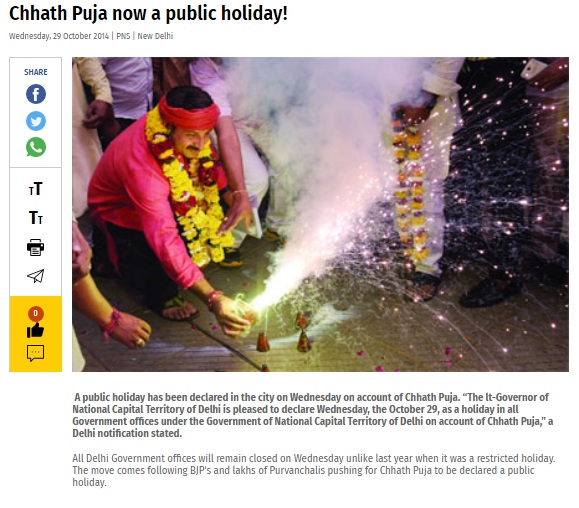 Conclusion: The claim that BJP MP Manoj Tiwari was polluting Delhi by bursting crackers when the capital is choking is false. Our rating is ??? Misrepresentation.